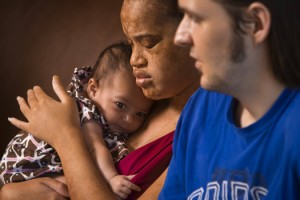 Erika Johnson was still in the hospital when the state took her 2-day-old infant away. There was no reports of abuse, no signs of trauma, and no reason why she could not care for her baby. Erika lost her baby because she and her partner are both blind.
The couple has managed to overcome a lot of stigma during their lifetimes over what they could and could not do. Erika graduated from high school with honors, her partner, Blake Sinnett, learned to ride a bike on the street using a safety gadget. They both learned to care for themselves without the need of a care taker.
However, when Erika had problems breastfeeding in the first few hours, a nurse made a note that the infant was "without proper custody, support or care." That note set in action a chain of events which led to the couple losing their infant for 57 days.
"I needed help as a new parent, but not as a blind parent," Johnson said.
A social worker came to Johnson's room to question her about her parenting abilities. After a few minutes of questioning, the social worker decided that Johnson could not care for her baby. According to Johnson, the social worker told her
"Look, because you guys are blind, I don't feel like you can adequately take care of her."
When Johnson was discharged, the couple was told that they would not be able to take their daughter, Mikaela, with them. They would also not be allowed to hold their baby one last time. For the next 57 days, despite no reports or evidence of parental abuse or neglect, Johnson and Sinnett were reduced to two visits per week, at an hour each. Breastfeeding became a lost cause as Johnson's milk dried up.
The couple contacted Gary Wunder, president of the National Federation of the Blind of Missouri, who then notified Kansas City chapter president Shelia Wright. They also hired attorney Amy Coopman to defend them against the state. As news of the couple spread, more than 100 people at a national convention in Dallas volunteered to travel to Kansas City to protest and testify on behalf of Johnson and Sinnet.
Tuesday, after 57 days, the couple received the news that their daughter would be coming home and that the state was dismissing the case against them. But the couple are not letting the state get off easily. Attorney Coopman says legal action will be taken to prevent another couple from facing the same nightmare.
"Whether a couple is visually impaired or deaf or in a wheelchair, the state should not keep them from their children," she said.
– Summer, Staff Writer
Related Articles:
Photo via SOURCE
---
[ad]