When a baby is born prematurely, there is a long list of complications that can occur if the baby is not monitored closely. Typically, infants born premature are placed in incubators to allow their temperature to stay warm and regulated. According to New York Daily News, one Indian family faced a harrowing dilemma when their baby boy was born two months premature and weighed only 3 pounds 3 ounces.
34 year-old Aruna Chauhan gave birth to son Mithilesh two months early in October 2013 at Alliance Hospital in Mumbai. Their tiny baby was immediately admitted to the intensive care unit, plagued with thyroid issues and prone to infections. Aruna, and her husband Ramesh were so poverty stricken that they had to sell their belongings to be able to keep paying the $130-a-day fee for little Mithilesh to stay in the hospital.
After 20 days the couple had exhausted all of their available options, and the hospital discharged the premature infant. Both parents began approaching local government-run hospitals but were ultimately turned away because of the already extensive ICU waiting lists. After being turned away from charitable trusts, it seemed there was nothing more they could do for their newborn son.
Then, a doctor recommended something that Ramesh and Aruna could do at home to keep their baby's temperature regulated.
Ramesh explains,
"One doctor told us that if we couldn't afford to keep our baby in hospital we should try a Thermocol icebox with holes for ventilation and a 60-watt bulb to provide the right amount of warmth. He advised it was better than nothing and might save our baby. My husband bought the box from a nearby fish market and cut holes in it."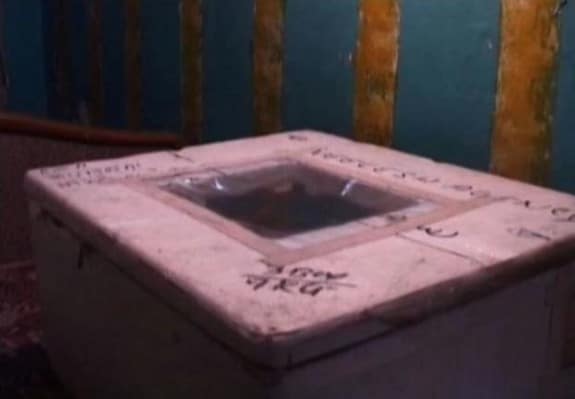 Hoping that they made the right choice for their son, the couple set an alarm for every two hours to monitor the child's temperature every day for five months.
Aruna recalls the situation,
"It was awful. We had no idea if it was the right thing to do but we had to try something. We were terrified if we did nothing he'd die but we were also aware that what we were doing wasn't exactly safe either. It was a very distressing time."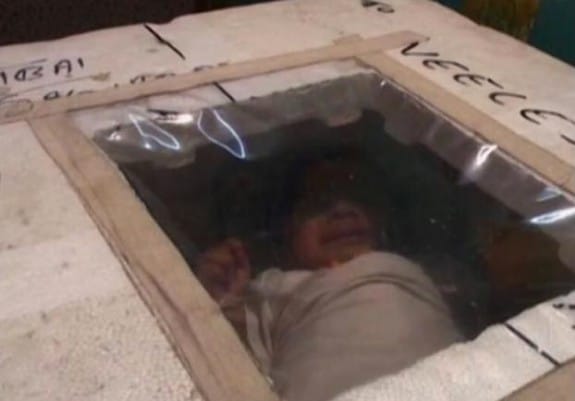 A local newspaper eventually picked up the family's story, and as soon as the article had run in the newspaper, another local hospital stepped forward and offered pro-bono medical treatment for little Mithilesh. The child was admitted to Wadia Hospital for Children in Parel, Mumbai where he is now being cared for 24/7 by staff.
CEO of Wadia Hospital for Children, Dr. Minnie Bhodanwal said,
"This is an extremely sorry condition that a baby has to be kept in a Thermocol ice box in an era of advanced medicine. It was a practical solution considering their circumstances but it could have been life threatening if the baby's temperature had fallen out of control."
Doctors say that Mithilesh needs constant supervision and round the clock care as he is very underweight at a little under five pounds. Dr. Bhodanwal adds: "A premature baby needs 24 hour medical care. We are making sure he recovers well and we are confident we'll be sending the baby home in about three weeks."
Since the baby's story ran in the local newspapers in the Mumbai community, the family has received many donations and gifts. They had even received an anonymous check for $250. Ramesh expresses his gratitude,
"Three years ago we arrived in Mumbai from Gujarat and we were warned this was a tough and heartless city. I want to tell those people that Mumbai has adopted my ailing son. Nowhere in the world can one find so much affection."
---
[ad]