There is no denying that Sophie the Giraffe is the number one teether on the planet. You can't pass a stroller or infant seat at the mall without seeing this smiley giraffe attached somewhere to a baby.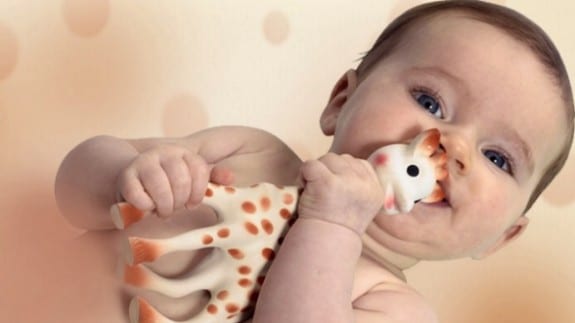 But as new parents know, when a baby is getting their teeth one product isn't always the answer. When my son was teething we had a variety of chewers, all with different textures. He liked Sophie because he could flip her over and chew every side, but was thrown off by her squeaking.
As parents become more aware of harmful materials, manufacturers have really stepped up their efforts to create safe, innovative products to help our babies through a very tough developmental stage.
We polled the crowd(aka our team of new moms) and here are the teethers they recommended.  These products, they say, are easy to hold(and wash), effective and safe for little ones.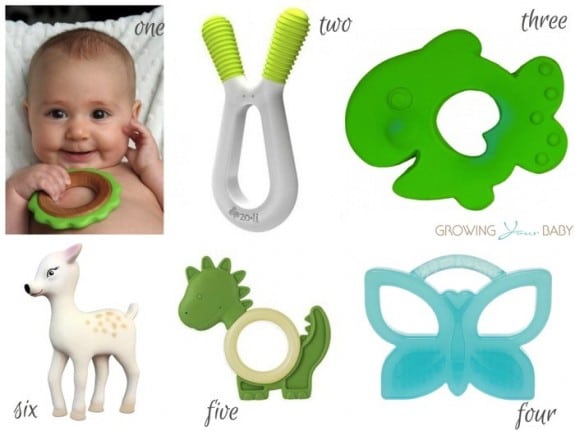 Begin Again Teether($10) – The Green Ring is 100% compostable, and features GreenDot, a made in the USA biomaterial made from corn! The Green Ring toy is comprised of a 3 inch loop of smooth Beech wood encircled by our soft, corn starch bio-resin. This clip friendly ring is great for travel, easy cleaning, and is 100% eco-friendly.
Zoli Bunny Teether($13) – This easy to grasp teether features an oval handle and dual soft textured tips to sooth baby's gums. It is also BPA, Phthalate, PVC, Nitrosamine, and Latex free
Natural Rubber Teether Fish($10) – This bright, cheerful teether is both easy to hold, and safe for little ones. Made from 100% natural latex rubber, hand-painted with non-toxic paints, this water-resistant toy is completely PVC, BPA, and Phthalate free.
Honest Baby Silicone Teether($10) – Specially designed soft surface textures help soothe inflammation & teething irritation can be chilled or frozen for added relief! One-piece design minimizes bacteria & makes it super easy to clean.  Just throw it in the dishwasher or sterilize it in boiling water.
My Natural Eco Teether ($11) – My Natural Eco Teething collection is a perfect choice in teething & sensory stimulation for babies. This easy to grab dinosaur is made from plant-based material, which reduces the fossil fuel and other environmental impact.   It is also BPA, phthalates, PVC and latex free.
Lela the Deer by Lassig ($20) – This adorable 6″ teether is made of 100% natural rubber and food grade dye. Plus, she is BPA and phthalate-free, providing soothing and safe relief for baby's sore gums. Lela stimulates all of baby's senses with her soft and easy to grab shape, playful squeak, and sweet expression.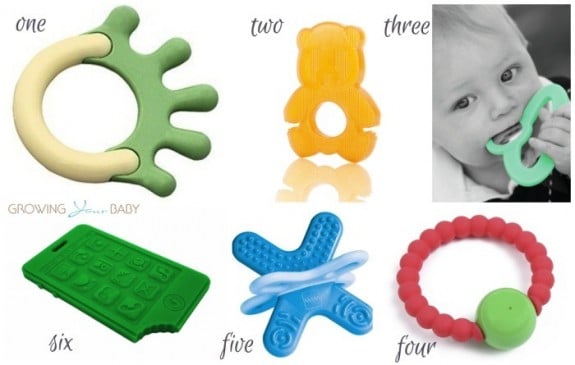 ---
[ad]