There are a lot of tragedies that can happen in the first years of life, but according to a research team from the Johns Hopkins Bloomberg School of Public Health, premature birth is the leading cause of death of young children worldwide.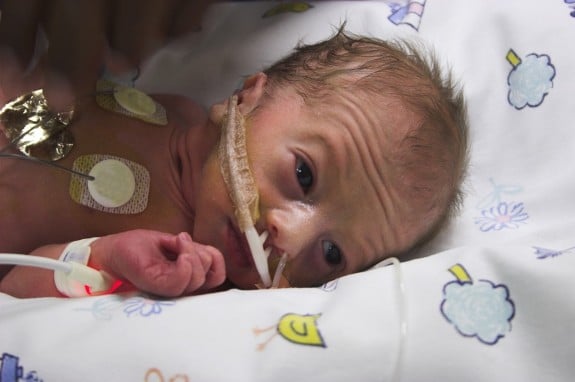 This study, published in The Lancet, aims to educate in accordance with World Prematurity Day.
According to the World Health Organization (WHO), the global mortality rate of children under the age of 5 had reduced quite significantly, going from 76 deaths per 1,000 live births in 2000 to 46 per 1,000. This represents a mortality reduction of about 3.9% each year. Unfortunately, during that same time period, deaths from premature birth have only reduced by 2%, in total.
In fact, this recent study, led by Dr. Robert Black of the Johns Hopkins Bloomberg School of Public Health in Baltimore, Maryland, estimated around 6.3 million deaths among children under the age of 5 last year. Nearly 1.1 million of those deaths were a result of complications that related to premature birth. In more detail, 965,000 deaths in the first 28 days of an infant's life were directly related to preterm birth complications, and such complications caused 125,000 deaths among children between the ages of 1 month and 5 years.
All these statistics made premature birth the leading cause of death among children under the age of 5.
"This marks a turning of the tide, a transition from infections to neonatal conditions, especially those related to premature births, and this will require entirely different medical and public health approaches," co-author Dr. Joy Lawn, of the London School of Hygiene and Tropical Medicine in the UK, said in the report. "The successes we've seen in the ongoing fight against infectious diseases demonstrates that we can also be successful if we invest in prevention and care for preterm birth."
The country with the most premature deaths was India with 361, 600 in the last year, alone. Following them came Nigeria, Pakistan, Democratic Republic of Congo, China, Bangladesh, Indonesia, Ethiopia, Angola, and Kenya. Macedonia was the country with the highest percentage of deaths related to premature birth among children under the age of five, followed by Slovenia, Denmark, Serbia, the UK, Hungary, Slovakia, Poland, Republic of Korea, and Switzerland.
But the United States didn't fare much better. In fact, 28.1% of deaths among children under the age of five were related to premature birth, equaling 8,1000 deaths, and placing the US at 141 out of 162 countries for the worst premature birth-related death rates. To make matters worse, despite being one of the countries with the highest medical resources, the United States has one of the highest premature birth rates among developed countries, equaling around 11.4% of all babies born last year.
Should the trends continue, between the number of births each year, and the number of preterm births and its related deaths, researchers estimate that around 4.4 million children will die in 2030 from premature birth-related causes. Around 60% will occur in sub-Saharan Africa by 2030.
"Our projection results provide concrete examples of how distribution of child causes of deaths could look in 15-2- years to inform priority setting at the post-2015 era," the team said in their report. "More evidence is needed about shifts in timing, causes, and places of under-5 deaths to inform child survival agendas by and beyond 2015, to end preventable child deaths in a generation and to count and account for every newborn and every child."
Research projects that will total $250 million are now being used to do just that; researchers hope to find a better understanding of the underlying causes of preterm births, as well as how to either delay or prevent them. One such project is a $75 million drive being launched by the March of Dimes. It will consist of five research programs, all of which are aimed at uncovering the unknown causes of preterm birth.
"The March of Dimes initiative is looking at the whole spectrum of prematurity," Dr. Joe Leigh Simpson, senior vice president for research and global programs at the March of Dimes, told Medical News Today. "Some 200 scientists from 20 disciplines are already involved in this research effort and those numbers are expected to double by next year."
Another project, led by the Global Alliance to Prevent Prematurity and Stillbirth (GAPPS), will use $20 million in funding to discover the causes of premature birth, but it will also look at possible treatments for the condition.
"To be successful, this has to be a team effort," Dr. Larry Rand, director of perinatal services at the University of California-San Francisco and co-director of the university's Preterm Birth Initiative, told Medical News Today. "Effective collaboration will accelerate the discovery, increase access to interventions that work, and optimize the project's impact on rates of early preterm birth and mortality."
Related Articles:
---
[ad]