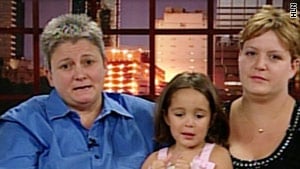 Tracy Harrison was raised in a strict Baptist home and considers herself a devout Christian. So when it became time to enroll her 4-year-old daughter into preschool, choosing a Christian based school seemed like the obvious option. After the first parent's night hosted by the school, however, Harrison was informed that her daughter was no longer welcome.
Harrison and her partner are lesbians and parent their little girl in what they feel is a loving and committed relationship. The school, St. Vincent's Cathedral School in a Dallas suburb, sees things a little differently. While they have no problem allowing children from single parents in, children from gay and lesbian families are not allowed.
St. Vincent is a branch of the U.S. Episcopal Church. While the main church has been welcoming towards gays and lesbians, St. Vincent broke off to become a more conservative branch of the Anglican Church.
"The God that I know and the God that I love will love me and love my children no matter what," she said.
The school had already accepted the child's application, even when Jill Harrison scratched out the word "father" and wrote in her partner's name on the line instead. However, when the couple appeared at a parent's night at the school the officials decided to deny the application.
"We based our decisions about enrollment on what is best for the children of St. Vincent's as a whole and in conformity with the above standards," Rev. Ryan Reed said. "We regret the disappointment the mother feels, but also do not understand why she would want to enroll her child in a school that would undercut her own personal values at home."
The Harrisons had hoped to find a school that would teach their daughter "the basic Bible teachings … follow the Golden Rule, the Ten Commandments, be kind to your neighbor." For now, it seems those lessons are going to have to come from somewhere else.
"I absolutely would not want her to partake in a school where they did not believe or condone the relationship that we have together," she said.
– Summer, staff writer
Related Articles:
---
[ad]