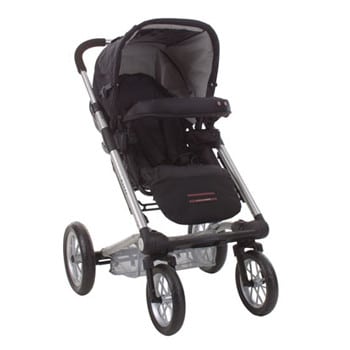 The Mutsy 4 Rider light is an intelligently designed stroller perfect for a growing family. I have yet to see another like it in my community, and am asked about it each time we use it.
We recently purchased this luxury stroller in anticipation of our second baby. Now that he's here, I love that our 4 Rider Light has something for every stage of his development. The optional car seat adapter is compatible with both Graco and Maxi Cosi infant car seats. Having this makes it easy to cart our son around without taking him in and out of his car seat, or toting the heavy, awkward bucket around while full of heavy, sleeping baby. The actual adapter is just two small metal brackets that simply clicks onto the frame and sits with the seat facing you.
Parents who prefer to pick and choose their strolling options will like you can buy each component separately. This is nice for those who don't want a million pieces of gear cluttering up their house..
For your strolling convenience, Mutsy offers the aforementioned car seat adapter, infant bassinet, toddler seat and a fun seat.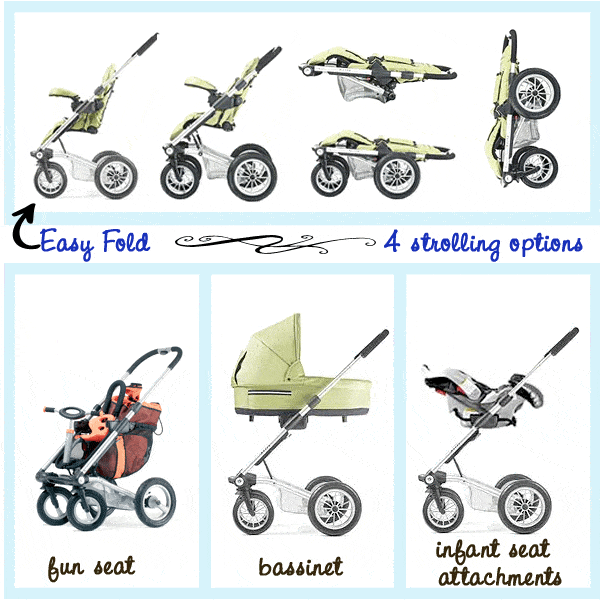 We love how easily the infant bassinet snaps onto the frame. It comes with a mattress and sheet set that is offered in a rainbow of colours. The canopy moves up/down nicely with the press of two base buttons, and is very solidly made. There is also a removable snap on cover which attaches at the base of the canopy and fits snugly around the bassinet, protecting your little one from the elements. For mom, Mutsy has added a few small pockets on the side of the bassinet base as well as in the bed cover portion. These are great for holding keys, money or a cell phone. There are handy carry straps which allow you to move the bassinet around (we also used it for our new born to sleep in for the first few weeks). The small rubberized feet on the bottom of the unit are great for preventing damage to furniture or other delicate surfaces. The only downfall, in my opinion, is that the bassinet, while beautifully made, seems to ride a little 'bumpily' over cracks and uneven sidewalks, causing the baby to be jostled around a bit while we are out for a stroll.
The frame is extremely light weight(19lbs), and extraordinarily maneuverable. It's ability to push with one hand is great for tight spaces or busy malls. My favorite feature is the adjustable handle, which is great for taller parents or couples with a height difference. There is a small basket on the base of the frame, suitable for a mid size diaper bag. The basket is made of heavy duty plastic, easy to wipe clean if needed. For moms who need extra space for storage, a shopping basket can be attached to any of Mutsy's 4 Rider frames.
A cool riding accesory offered for toddlers is the 'fun seat'. This cross between a race car and a bicycle has been a huge hit with our 20 month old daughter. Now that walking (running) is her thing we are thrilled that she'll actually stay put in this stroller. The toddler sits in a formed plastic seat (bright racing orange) facing outwards with their feet resting on the front platform and there is a 'handle bar' that they get to 'steer' which keeps busy hands occupied and entertained. The 5 point harness is great for keeping your little one safe and secure, but not confined or constricted.
Underneath the fun seat is a very large plasticized mesh basket, which is ideal for a trip to the market. I have done an entire grocery shop and been able to easily pile all my purchases into the combination of the fun seat basket and frame basket with room to spare. Mutsy also sells a 'beach bag' that fits the fun seat basket and would make for a useful and hassle free way to pack for a trip to the park or family outing.
Once mastered, the Mutsy is extremely easy to collapse and stow. Being able to fold the stroller with the components attached is a bonus and timesaver. All of the 4 Rider Light's seats clip in easily and lock in, giving you the piece of mind to know you know that your precious cargo is safe and secure, and you don't have to hunt down your owner's manual each time you want to adjust something. The design of the Mutsy is truly intuitive.
I am excited to outfit my 4 Rider with the next 'stage' of options that we need as our children grow. We plan to purchase the step up board next, an oval shaped platform for our daughter to stand on, which hooks onto the rear 'axel' of the frame, and once again, makes this stroller truly practical for a growing family.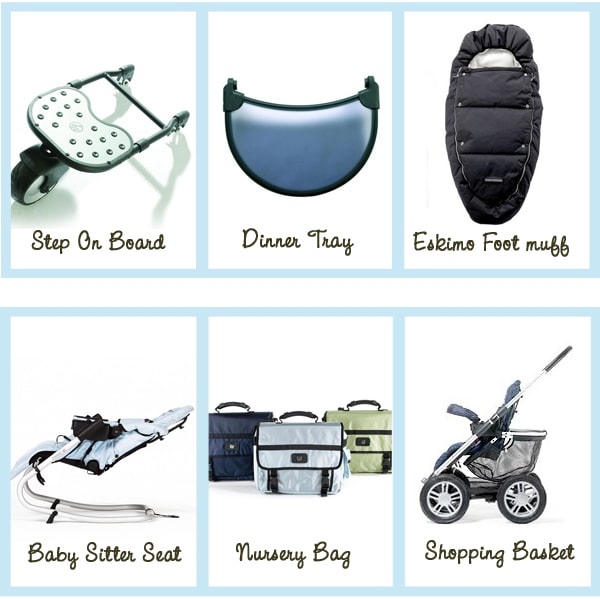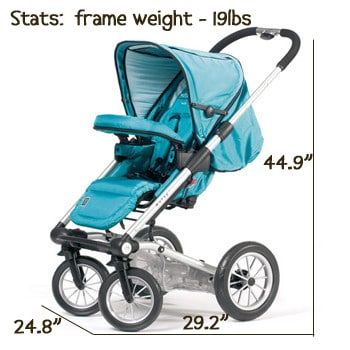 Mutsy offers families true quality for their money. These strollers have been all the rage in the UK for years, and have finally come to North America. The ease of use, versatility and innovative design are a welcome change in our stroller market, and I am thrilled with our stroller. Please keep in mind that this review only covers a fraction of the exciting and innovative Mutsy options and accessories available to families.
Prices: Frame,($370) Bassinet($225), Fun seat($110), Stroller Seat($170), Car seat Adapter ($30).
Additional information available at mutsy.com
---
[ad]