The U.S. Consumer Product Safety Commission and Health Canada, in cooperation with Britax Child Safety, today announced a voluntary recall of about 20,800 B-Nimble Strollers due to risk of brake failure. An audible click heard when the brake pedal is pressed can give a false impression that the brake is fully engaged when it is not. When the brake is not engaged, the stroller can move unexpectedly posing a risk of injury to the child occupant.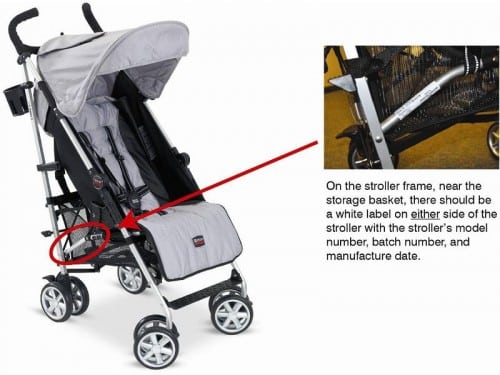 Britax has received seven reports of the brake not being fully engaged. No injuries have been reported.
This recall involves B-Nimble umbrella strollers manufactured on or after August 1, 2010. Strollers included in the recall have model numbers U311771, U311773, U311775 and U311780. The date of manufacture labels and model numbers can be found on the lower frame/tube on either the left or the right side. The strollers were sold in a variety of colors including black and silver, Cowmooflage (black and white), green and red.
Consumers should immediately stop using their strollers and contact Britax toll-free at (888) 427-4829 between 9 a.m. and 5 p.m. ET Monday through Friday and, or visit the firm's website britaxusa.com for information and to request an improved replacement stroller. Consumers who resume use of their strollers while awaiting the replacement should always ensure that the brake is fully engaged.
To address this issue, BRITAX will send a free replacement B-NIMBLE stroller with a modified brake assembly to any consumer who previously purchased a B-NIMBLE stroller affected by this recall.
Related Articles:
---