The U.S. Consumer Product Safety Commission and Health Canada, in cooperation with Green Toys Inc., of Mill Valley, Calif, yesterday announced a voluntary recall of about 52,500 Green Toys™ Mini Vehicles because the wheels and hubcaps on the toy cars can detach, posing a choking hazard to young children.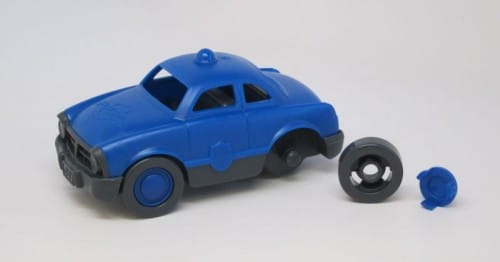 Green Toys has received 10 reports of wheels and hubcaps detaching or loosening from the vehicles. There have been no reports of injuries.
This recall involves Green Toys™ Mini Vehicles. All cars are made of plastic and available in yellow, green, red, white and blue. Model names and numbers for the seven recalled vehicles or sets are listed in the table below. For Mini Vehicle (MVHA – 1014) and Fastback (MVFA-1022) sets the model numbers can be found on the bottom of the toys' packaging. For all other cars, a label with the model number can be found on the bottom of the car itself.
Mini Vehicle Set – MVHA-1014
Mini Ambulance – MAMW-1015
Mini Vehicle Assortment – MVSA-1016
Mini Red Fastback – MFBR-1018
Mini Police Car – MPCB-1020
Mini Taxi – MTXY-1021
Mini Fastback Set – MVFA-1022
The recalled Mini Vehicles were manufactured from March 2012 through June 2012. The manufacturing date is represented by a circle with an arrow in the middle that can be found imprinted on the underside of the front of the car. To the left and right of the arrow are numbers that represent the year and the arrow itself points to the number that represents the month. Cars with an "I" etched into the underside of the car next to the date stamp are not part of the recall.
Consumers should take the product away from children immediately and contact Green Toys Inc. Green Toys toll-free at (888) 973-3421 between 9 a.m. and 5 p.m. PT Monday through Friday or visit the firm's website at www.greentoys.com/recall to receive a full refund.
---
[ad]