The U.S. Consumer Product Safety Commission, in cooperation with Evenflo, today announced a voluntary recall of about 95,000 Evenflo Majestic™ High Chairs because the plastic caps and metal screws on both sides of the high chair can loosen and fall out, posing both fall and choking hazards to children.Plastic caps and screws that become loose and fall out can cause the seatback to suddenly fall back or detach from the high chair. Children can fall out or collide with objects and suffer broken bones, abrasions, cuts and bruises. Detached plastic caps and metal screws also pose a choking hazard to children.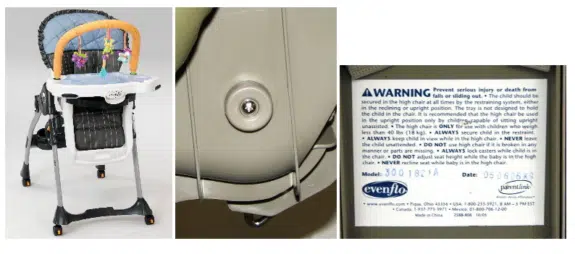 Evenflo has received 140 reports of seatbacks reclining, falling back and/or detaching unexpectedly, which resulted in at least 47 reports of bumps and bruises to the head, two reports of broken bones, and at least 45 reports of other injuries including abrasions, cuts, and bruises. Evenflo has received more than 1,000 reports of plastic caps and screws falling out of the high chairs, including seven incidents in which caps and screws were found in children's hands or mouths but were removed before choking occurred.
The recall involves Evenflo Majestic™ high chairs made before January 23, 2007. The recalled high chairs have the following model numbers: 3001395A, 3001583, 3001633A, 3001669, 3001700A, 3001713, 3001713A, 3001730A, 3001732, 3001732A, 3001733, 3001742, 3001742A, and 3001756. The model number and production date can be found on a white label on the seatback. "Evenflo" is printed on the label and on the push button on the front of the tray.
Consumers should immediately stop using the high chairs and contact Evenflo at (800) 233-5921 between 8 a.m. and 5 p.m. ET Monday through Friday, or visit www.majestichighchair.com to receive a free repair kit.
Related Articles:
---