Kraft Heinz Canada is recalling Heinz brand Turkey Stew 8+ Months baby food from the marketplace due to the presence of insects. Consumers should not consume the recalled product.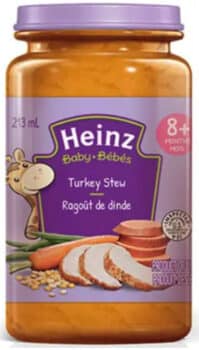 This recall was triggered by a consumer complaint. The Canadian Food Inspection Agency (CFIA) is conducting a food safety investigation, which may lead to the recall of other products. If other high-risk products are recalled, the CFIA will notify the public through updated Food Recall Warnings.
The CFIA is verifying that industry is removing recalled product from the marketplace.
Recalled products
| Brand Name | Common Name | Size | UPC | Code(s) on Product |
| --- | --- | --- | --- | --- |
| Heinz | Turkey Stew 8+ Months Baby Food | 213 mL | 0 572200 6 | 2021JN04 |
The recalled baby food was sold in British Columbia, Newfoundland and Labrador, Ontario, Quebec, and Saskatchewan.
Check to see if you have recalled products in your home. Recalled products should be thrown out or returned to the store where they were purchased.