According to the World Health Organization, approximately 15 million babies are born too early every year. Occurring often without warning researchers are always looking for ways to predict if a mom will deliver early.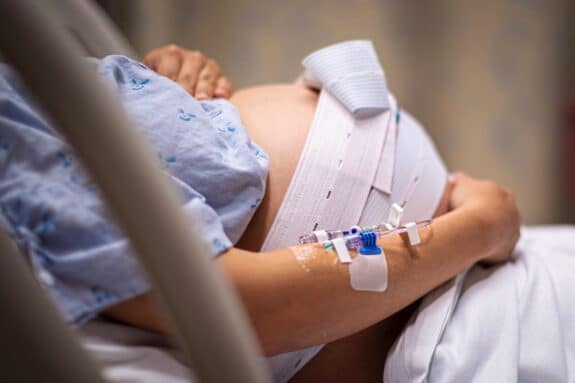 A team a Columbia University in New York has identified certain metabolic substances in the vagina that may predict if a baby will be born prematurely. Testing the vaginal microbiome during pregnancy could help the medical community identify and manage high-risk pregnancies.
Because the vaginal microbiome is so complex while you're pregnant, the reproductive microbiome was conceived, joining the microbiome of the vaginal tract, placenta, and milk/mammary gland, and the direct relationship with fetal development, birth, and newborn. This system plays an essential role in the initial colonization of newborn babies and therefore the development of a healthy gastrointestinal and skin microbiota
For their research, Tal Korem and his colleagues assessed 232 vaginal swab samples collected during the second trimester of pregnancy. Of these, 80 came from preterm pregnancies. The team estimates 75 percent of the samples were collected from Black women, a group that is 50% more likely to deliver a premature baby than white women.
While previous studies have found the vaginal microbiome in preterm birth, Korem and his colleagues identified both the microbes and the metabolites in each sample. They used this data to predict whether a pregnancy would end in preterm birth and were able to identify certain metabolites, but not microbes that had the strongest association with preterm birth.
Notably, many of the metabolites associated with preterm birth weren't created by microbes or humans, says Korem. "They're coming from an external source," he says. While further analysis is needed to identify the source, some of these metabolites, like ethyl glucoside and EDTA, are present in certain cosmetic and hygienic products.
"This is far from proof," says Korem. "This is very preliminary, but we're sort of raising a flag and saying, look, there's something suspicious here that we need to look into," he says.
A smaller study conducted by Standford in 2015 worked to understand what happens to the human microbiome during pregnancy, both in women who deliver healthy, term babies and in those who deliver prematurely. High levels of Gardnerella and ureaplasma bacteria and low levels of lactobacillus over several weeks were linked with increased risk for preterm birth.
Researchers will now have to drive deeper into diet, hygiene products, and likely even detergents used for laundering to determine which products play a role in changing the vaginal microbiome in a way that it was cause premature birth. This will give them a clearer path of treatment for pregnant moms so they can reduce babies before their due date.