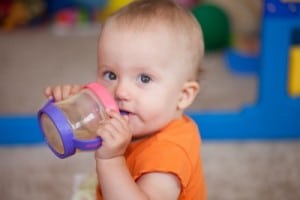 Ah, the first steps. We squeal with excitement and watch anxiously waiting for them. Those first steps are just precious, aren't they?
Those first steps are also a little clumsy. For months, your little one will be a little wobbly. Even in the toddler years, trips and falls can be rather prevalent, but injury is generally minimal. If, however, your child is carrying an object, like a bottle, sippy cup in their hands or a pacifier in their mouth when they fall, the risk of injury is instantly increased.
In a nationwide study, researchers estimated that a total of 45,398 emergency room visits among children three and under were due to injuries from sippy cups, bottles or pacifiers between the years 1991 and 2010.
Bottle injuries alone made up for about 66 percent of all injuries, and most injuries involved children between the ages of 1 and 2 years of age who had been cut after falling with a bottle (about two-thirds). Pacifiers were responsible for about 20 percent of all injuries, most of which were children under a year old; the most common injuries were dental damage and bruising. Sippy cup injuries were most common in children older than two and these injuries generally involved the head, neck or face.
Other injuries noted in the study included 1,321 cases of swallowing or inhaling the product, 1,895 burns (likely to heating the contents) and 1,821 injuries like fractures. There were also a total of seven deaths related to the use of these products during the course of the study, but this information was not actually included in the study.
Researchers are unsure as to why bottles were associated with more injuries than sippy cups and pacifiers, but Keim believes that there may be "something about the products themselves that are potentially more dangerous or that children are using them more."
"This is right around the time that kids start to walk and run and aren't very good at it yet," said Sarah Keim, lead author of the study and researcher at Nationwide Children's Hospital in Columbus, Ohio. She added that, "a lot of parents baby-proof their house, but don't ever think about the possibility of an injury related to these products."
Injuries were found to decrease 41 percent during the course of the study, however, which is very good news. Whether this is due to more parents following the recommendations or more children breastfeeding, the study was unable to determine.
Parents are encouraged by the American Academy of Pediatrics to transition their children from bottle to cup between 12 and 15 months of age to prevent issues like tooth decay. They also recommend that parents wean babies off pacifiers between 6 and 12 months. Keim says that following these recommendations may help reduce injury, but Dr. Mark Zonfrillo, a pediatric emergency medicine physician at Children's Hospital of Philadelphia says that not weaning according to the guidelines does not necessarily increase the risk either.
"I think that the normal reasons why we recommend weaning, which is that bottle-feeding has been associated with excessive milk intake, iron deficiency and possible problems with tooth decay, should be the reasons we focus on weaning," said Zonfrillo.
Zonfrillo recommended that parents decrease the risk of injury with these items by staying in the same room with their babies when they are mobile. The study's authors also recommended that parents have children stay seated while drinking from a sippy cup or bottle to help reduce the risk of injury.
Related Articles:
SOURCE
Image credit: melastmohican / 123RF Stock Photo
---
[ad]