According to the World Health Organization, more than 1.5 million babies are born prematurely worldwide. Those children are often born with breathing problems because their lungs did not have a chance to fully develop. Previous studies on children have indicated that these very same children are also at a higher risk of asthma later on in life. However, a new study, published in the journal PLoS Medicine, has found that the risk is even higher than previously thought.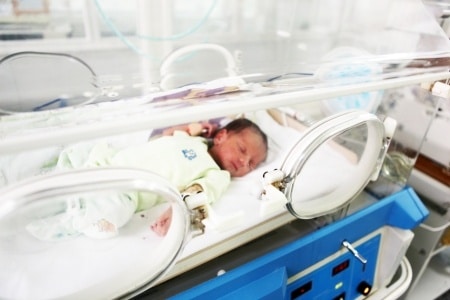 Using a total of 30 studies from six different continents, researchers looked at thousands of babies born since the 1990's. What they found was that, despite improved care for preterm infants, the risk of asthma for children born early (37 weeks or earlier) is significantly higher than children who are born full-term.
Overall, asthma was found to affect 8% of all children born full-term and 14% of all babies born prematurely; that's nearly double the risk! In detail, babies born before 37 weeks were 50% more likely to develop asthma, and those born three months early were three times more likely to develop asthma than those born full-term. Moreover, children at risk for developing the condition were the same among preschool aged children, which suggests that preemies don't outgrow their risk over time.
"Doctors and parents need to be aware of the increased risks of asthma in premature babies, in order to make early diagnosis and intervention possible," Dr. Jasper Been, lead study author from the University of Edinburgh's Centre for Population Health Sciences in Scotland, told Medical News Today. "By changing the way we monitor and treat children born preterm, we hope to decrease the future risks of serious breathing problems, including asthma. Our findings should help find better ways to prevent and treat asthma and asthma-like symptoms in those born preterm."
Dr. Been and his colleagues also stated that their results proved "compelling evidence" that preterm birth increases the risk of asthma in children, and that future research should "focus on understanding the underlying mechanisms, and then to translate these insights into the development of preventative interventions."
But there are already some preventative interventions, according to Dr. Samantha Walker, executive director of research and policy at Asthma UK. She says that mothers with asthma should continue to take their medications during pregnancy, since they are considered safe. Mothers should also take care to maintain a healthy weight, stay active, avoid stress and not smoke to help decrease their child's overall risk of asthma and preterm birth.
"An important factor that causes both preterm birth and asthma, particularly in those born preterm, is tobacco smoke exposure before birth," Dr. Been confirmed while adding: "Our current research focuses on evaluating interventions to address this issue."
Related Articles:
---
[ad]