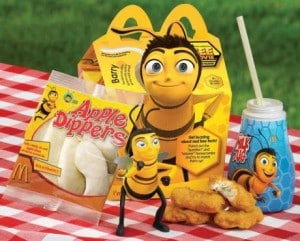 A new ordinance passed in Santa Clara County, California, prohibits restaurants from selling children's toys unless the restaurants meet nutritional guidelines. This would prevent fast food places such as McDonald's and Burger King from selling kids' meals in that county.
The aim of the ban was to take a stand against childhood obesity. By blocking the sale of these toys, Supervisor Ken Yeager hopes it will remove much of the desire from children to eat at fast food restaurants. Yeager, who sponsored the new measure, said "this ordinance prevents restaurants from preying on children's' love of toys" to sell high-calorie, unhealthful food."
The ban was approved by the county board 3-2 after an hour of testimony on both sides of the issue. Health administrators, doctors, and some parents were in favor of the ordinance passing in Santa Clara. Dr. Dan Delgado, a director of a Santa Clara program for childhood obesity, spoke in favor of the measure stating that the toys lure children into unhealthy eating habits.
Along with fast food franchise owners, some parents were opposed to the new ban. They felt that this measure overstepped their parental rights. One such opponent was Supervisor Donald Gage, who felt that parents should be in charge of their children, not the county. "If you can't control a 3-year-old child for a toy, God save you when they get to be teenagers," Gage remarked.
There were also many fans of the fast food toys who spoke out on the ban, stating that the toys were often used as holiday gifts for low income families.
Fast food restaurants in the area have 90 days to comply with the new ordinance. The restaurants must improve the nutritional qualities of their children's menu if they want to continue including the small, plastic toys. Many are not happy about this. Steve Peat, who owns seven McDonald's in the area, says he already does plenty to improve the health of children by donating funds for children's sports and other activities.
Dr. Delgado however, says he has many obese children in his clinic whose parents tell him they buy the meals for the toys. His patients, as young as 5-years-old and suffering from Type-2 diabetes, he feels are in part unhealthy due to the unhealthy foods they eat. Including fast food children's meals. – Summer, staff writer
Related Articles:
---
[ad]