For new parents baby swim class is a great way to teach their little ones some co-ordination and safety, while getting out for some socialization and exercise. Now, a new study has found that these little swimmers have better balance and better grasping power than non-swimmers – developmental benefits that last well after they are in school.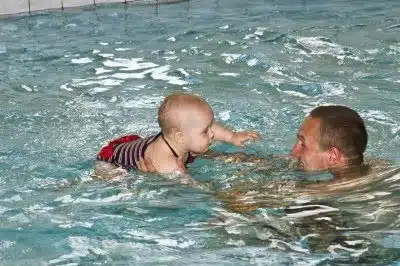 A team led by Hermundur Sigmundsson, a professor of psychology at Norwegian University of Science and Technology (NTNU) and Brian Hopkins, a professor of psychology from Lancaster University studied 19 baby swimmers and compared them with a control group of 19 other children in Iceland.
Both the groups had similar factors like housing, economic status and parents' education. The only difference between them was that while one group had participated in baby swimming classes for two hours a week between the ages of 2-3 months to 7 months old, the other did not. These classes included activities like baby somersault on a float mat, diving under water, jumping and trying to grab floating objects while balancing on a parent's hand.
What the researchers found was that when both the groups at age 5 were asked to do similar exercises, like walking on tiptoes, balancing on one foot, skipping rope, rolling a ball into a goal and catching a beanbag, the baby swimmers excelled where an exercise needed balancing and the ability to reach for things.
Sigmundsson believes the results show that giving babies specific training helps in the long run. "It's incredibly exciting that specific training for young babies has an effect later in life. Development is a dynamic interplay between maturation, growth, experience and learning. Our study shows that we must never underestimate the learning aspect," he concluded. – Atula, Staff Writer
Related Articles:
---