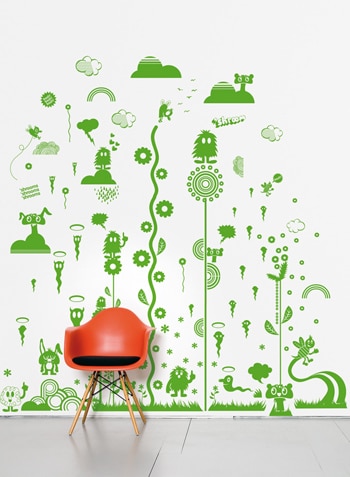 Since 2003, the French company, Domestic, has been offering a selection of beautifully intricate and wonderfully quirky wall drawings. Domestic works with a wide variety of designers and graphic artists, all of whom bring their own ideas and interpretations. The wall drawings are vinyl decals that offer a unique alternative to traditional wall paper or paint.
Although none of the designs are strictly marketed towards kids, there are a number of patterns that would work brilliantly. Among those that would perfectly set off a child's room are a collection of dachshunds (weiner dogs) in a variety of poses, a package of 90 individual ladybug decals, a set of cats in pink or black, and several world monuments (the Empire State Building, Eiffel Tower and Big Ben) serving as growth charts!
The great thing about wall art in the form of decals is that there are endless possibilities in placement! The same set of stickers will be different in each child's room!
– Belinda, Staff Writer
---
---
[ad]