Many families are struggling to afford gifts for their children this year. For some families, affording Christmas is difficult every year. Sadly, there are also families that won't have Christmas gifts under the tree. And while most of America continues on about their business, there are a few donors that are making Christmas happen in a big way for families that might not have been able to afford it otherwise.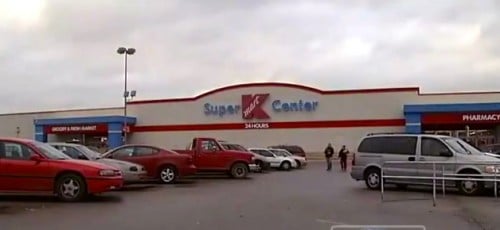 Secret Santas are paying the layaway bills at Kmart for families in need, all across the country. A movement that seems to have started in Michigan has now spread to Nebraska, Iowa, Indiana and Montana. For the most part, the donors are remaining anonymous, but a couple of the donors have stood aside at the layaway counters, just waiting for the right families to come in.
A young father in Indiana was the target of a recently widowed Secret Santa. Still in his dirty work clothes and wearing worn out boots, he went up to the counter to pay on his layaway bill. The store's layaway held Christmas gifts for his three young children and he was certain he wouldn't be able to afford it all before Christmas came. But just as he was getting ready to make his payment, a woman spoke up.
Edna Deppe, assistant manager at the Indianapolis store saw the miracle in action. "She told him, 'No, I'm paying for it,'" Deppe stated. "He just stood there and looked at her and then looked at me and asked if it was a joke. I told him it wasn't, and that she was going to pay for him. And he just busted out in tears."
This same woman, said to be in about her mid-40's paid layaway orders for more than 50 people, according to officials. As she finally made her way to the exit, she started handing out $50 bills and even paid for two carts of toys for a woman in line at the register.
The woman, who did not identify herself, only asked the that everyone "remember Ben." According to Deppe, this request was an apparent reference to her husband. "She was doing it in the memory of her husband, who had just died, and she said she wasn't going to be able to spend it and wanted to make people happy with it," said Deppe.
In her 40 years in retail, Deppe says she has never seen anything like this. "It was like an angel fell out of the sky and appeared in our store," she told reporters.
Stay-at-home mother of four children, all under the age of 8, Angie Torres, was in Kmart on Tuesday when the woman next to her said she was going to pay off her layaway account.
"I started to cry. I couldn't believe it," said Torres, who said she didn't think she was going to be able to pay off the debt before Christmas. "I was in disbelief. I hugged her and gave her a kiss."
Dona Bremser didn't get to meet her Secret Santa. She was at work when she got the call that the remaining $70 on her Christmas layaway had been paid off.
"I was speechless. It made me believe in Christmas again," said Bremser.
In Missoula, Montana, a gentleman paid more than $1,200 on the layaway bill of six customers. All of the customers were about to have their layaway items returned because they hadn't made their payments. One beneficiary was at the Seattle Children's Hospital, where her son was being treated for an undisclosed illness. Store manager Josine Murrin had the pleasure of delivering the good news.
"She was yelling at the nurses, 'We're going to have a Christmas after all!'" Murrin stated.
A mother of eight from Grand Rapids, Michigan, Carter, cried when she heard the news. She and her family are struggling as she tries to find work.
"My kids will have clothes for Christmas," she said.
Another Secret Santa seems to have been fueled by the Christmases of her childhood. After paying off five different accounts at an Omaha Kmart, the Secret Santa told Karl Graff, the store's assistant manager that her mother had set things on layaway at Kmart often when she was a child, "but they rarely were able to pay them off because they just didn't have the money for it," said Graff.
Graff had the pleasure of contacting the beneficiaries and cited that one woman "broke down in tears on the phone with me. She wasn't sure she was going to be able to pay off their layaway and was afraid their kids weren't going to have anything for Christmas," he stated.
"You know, 50 bucks may not sound like a lot," Graff said, "but I tell you what, at the right time, it may as well be a million dollars for some people."
And the beneficiaries aren't the only ones that are seeing the spirit of Christmas come alive. Even Kmart is feeling a little generosity. While other retail stores have dropped their layaway program, Kmart continued to offer this service to their customers. In fact, Kmart has offered it for the last four decades straight. But now, with Wal-Mart back in the layaway competition and Target adding their names to the list of stores that offer the program, Kmart stores have struggled to survive the holidays.
And for the store workers, who have to deal with some of the brunt of the holiday stress while missing out on family time, seeing the generosity first-hand has been a wonderful breath of fresh air.
"To be honest, in retail, it's easy to get cynical about the holidays, because you're kind of grinding it out when everybody else is having family time," said Graff. "It's really encouraging to see this side of Christmas again."
I couldn't agree more!
Related Articles:
---
[ad]