Twenty years ago, if diagnosed with AIDS, there weren't many treatment options available for one living with the virus. Today, however, the medical community has made leaps and bounds when it comes to treating HIV and AIDS. Take for instance, last year, when we covered a story on a Mississippi toddler who was born with the virus and then subsequently treated with antiretroviral drugs. The girl was tested again at 2 ½ years old, at which time it was found that the virus was undetectable. This case ultimately set the bar for treating HIV-infected infants.
In typical cases, when an HIV-infected woman is pregnant, she is typically given AIDS medications during the course of her pregnancy, which greatly reduces the chances of the infection being passed from mother to child.
This year, the medical community has seen another breakthrough in treating a second child born with the AIDS virus. In the latest case, the L.A. Baby was born at Miller Children's Long Beach Hospital where the staff knew the mother from a previous pregnancy and it was found that she was not taking her HIV medications, at which point the staff at the hospital leaped into action, starting the baby girl on medication approximately four hours after being born.
Various tests conducted multiple times are suggesting that the child's body is now showing no signs of the virus, according to Dr. Deborah Persaud, a physician at Johns Hopkins University who led the team that conducted the tests on the child. The baby's results differ from what the medical community typically sees in HIV-infected patients, as their viruses are merely suppressed by antiretroviral therapy.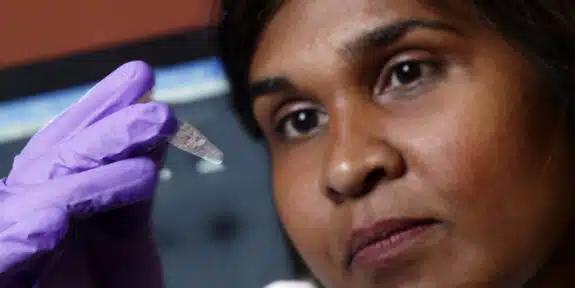 Doctors are employing cautious optimism when it comes to suggesting that the girl is cured. Dr. Yvonne Bryson, an infectious disease specialist at Mattel Children's Hospital UCLA and consulted on the child's case, weighs in, telling the Associated Press "We don't know if the baby is in remission…but it looks like that, that's obviously our hope." Nearly a year later, the baby, who is in foster care, does not appear to be infected with HIV any longer, even though tests confirmed that when the child was born, she was. She is continuing treatment and looking "very healthy," according to Dr. Bryson.
Bryson is spearheading a federally funded study that has just begun, to see if very early treatment in infected infants can cure the infection. Approximately 60 infants from the United States and other countries will receive very aggressive HIV treatments that will ultimately be discontinued if after a certain period of time, tests suggest that there is no active infection. Dr. Persaud notes that "these kids will be followed very, very closely for signs of the virus."