We all know there is no shortage of twins in this world.  In fact in the last few years, twin births in the U.S. have gone from 1 in 90 live births to 1 in 30.  For this reason I'm never really surprised when I hear a school has 5, 10 or even 15 sets of twins.
Highcrest Middle school in Wilmette, Illinois, however, is in line for the Guinness Book of World Records(GBWR).  At last count there are 24 sets of twins in one grade. This is 8 more than the current World Record, which held by Maine South High School, just 20 minutes away!  What is happening in Illinois?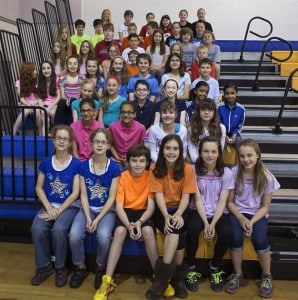 When Luke and Ryan Novosel counted up the number of doubles at their school they contacted the officials at GBWR to be considered for the directory.
"We were absolutely shocked," said mother, Nancy Fendley. And it wouldn't just brush past the current record of 16. "It's blowing it away," she said.
With some help from their mom and dad, the boys submitted an application with Guinness earlier this year and after following up with birth certificates, photos and proof that all are enrolled at the school, Highcrest Middle School will take the crown for 'The most sets of twins in the same academic year at one school'
Most of the twins are fraternal.
3 sets of boy-boy twins
11 sets of girl-girl twins
10 sets of boy-girl twins
 2 sets of identical twins are girls
And two of the pairings are twins who bridged the midnight hour and were born on different days.
When a photographer visited the school on Thursday to take portraits of the pair they arrived in matching outfits with catchy phrases. Sisters Mady and Mery Drilling-Coren donned Dr. Seuss style red T-shirts identifying them as 'Thing 1' and 'Thing 2.'
---
[ad]