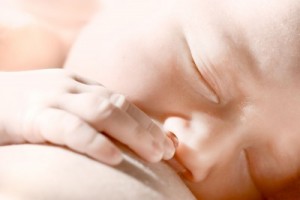 In a new study from Germany, breastfeeding has been linked to lower risks of SIDS in infants.
Dr. M. M. Vennemann, from the University of Munster, in Germany studied 333 infants who died of SIDS and 998 infants from the same age groups that did not die. What they found was that infants who were breastfed has a greatly reduced chance of SIDS. Exclusive breastfeeding at one month of age cut the SIDS risk in half.
The researchers compared the infants from the two groups at two weeks and found that only half of the infants that had died were breastfeeding. In comparison, 83 percent of the control group of infants were still breastfeeding at this point. At one month the numbers had dropped slightly, yet the control group still had higher breastfeeding rates. The infants who suffered from SIDS were only breastfeeding at a 40 percent rate, while the control group was at 72 percent.
While exclusive breastfeeding offered the most protection from SIDS, even partial breastfeeding offered some reduction to the risks.
The researchers say this points to evidence that exclusive breastfeeding can cut SIDS risks significantly.
Not all countries recommend breastfeeding as a risk reducer for SIDS. The German researchers hope that this evidence will help convince more countries to recommend breastfeeding. As evidence for the benefits that breastfeeding offers continues to grow, recommendations to breastfeed are being pressed by more countries.
Related Articles: