56 year-old Sallie Brown was enjoying her role of a wife, and a grandmother of three when last May she found out that she was pregnant. The surprise was double fold when doctors put her unusual weight gain not just to pregnancy but the fact that she is carrying twins!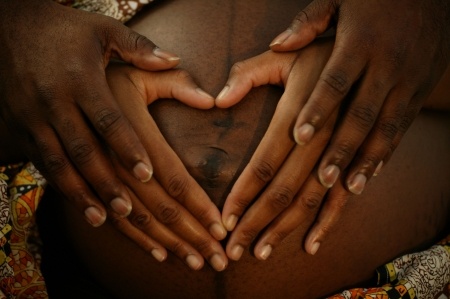 Sallie Brown conceived naturally and might be one of the oldest women to do so.
 "I dreamed that I caught a big ol' fish," the 56-year-old from High Point recalls. "Well, usually when you dream about fish, I heard that means somebody's pregnant, so I was calling all around to my girlfriends trying to find out who it was. Nobody was pregnant."

"Well," she says, pausing for effect, "come to find out, it was me. And when my girlfriends found out it was me, they all just had a ball laughing at me."
It has been also a unbelievable surprise for her husband – 64 year old Charles.
According to the Guiness Book of World Records, the oldest woman to get pregnant naturally is a 59 year old from UK. Most often women of Sallie's age may get pregnant but through artificial treatments.
"This is a total aberration," says fertility specialist Dr. Jeff Deaton of Premier Fertility Center in High Point.  "As a fertility doctor, I don't want women in their 40s waiting till they're 50 and beyond to try to get pregnant. Most women lose all fertility by age 44 or 45. That obviously doesn't mean there's a zero-percent chance (of getting pregnant at such an advanced age), but this is highly, highly, highly unusual."
In Sallie's case, she was not trying to get pregnant and had conceived without the help of treatments. She had a daughter when she was 15 from another relationship. When she and Charles got married, they tried to start a family and Sallie got pregnant. Unfortunately it was an ectopic pregnancy when the fetus grows outside the womb. The two resigned to the fact that they could ever have a child together and instead adopted Sallie's grandson who is now 9 years old.
They even joined a local support group called Grandparents Raising Grandchildren of Guilford County. They later adopted two more children — Gabriel, now 14, and his sister Jecoliah, 7.
Charles believes it is a blessing of God.
"I always wanted a kid by her, but I thought it was kind of scary, because I don't want nothing to happen to her having a child. So I said, 'Well, whatever the Lord gives me, I'll accept it.' So we're just working at our jobs, and all of a sudden, boom! But we didn't try to get pregnant — it just happened. I just said, 'Wow, God is good.'"
The couple got the news first during Sallie's annual medical checkup when she was a bit concerned about her weight gain.
"I told my doctor I was concerned because I was putting on a little weight," Sallie recalls. "He said he would have to do a pregnancy test, because he didn't want to give me any new medications if I was pregnant."
She thought it was humorous to think such a thing but a moment later, there was exciting news.
"I liked to fainted right there in the doctor's office," Sallie says. "I was so overwhelmed. I said, 'Me? Pregnant?' I couldn't believe it — it really threw me for a loop."
The next bit was even more shocking when the Doctor revealed that she was carrying twins!
She says she weighed about 170 pounds before getting pregnant, but her weight had increased to nearly 210 pounds earlier this month.
Now, Charles says he is having a hard time convincing family, friends and co-workers that he is indeed going to be a father.
"They didn't believe me," he says. "They said, 'Get out of here, Brown! You're too old! You ain't having no kid!'"
For a 56 year old, Sallie is coping well with her pregnancy and has had no complications thus far. But as doctors deem any pregnancy risky after the age of 35, she needs to be extra cautious.
"A higher incidence of birth defects comes with (a geriatric pregnancy), regardless of how healthy the woman is," says Dr. Curt Jacobs, a High Point obstetrician who is not her doctor. "The incidence of maternal and fetal complications goes up, such as ectopic pregnancy and congenital malformations. The main issues for the woman are high blood pressure, diabetes and obesity. … Mortality is an issue, too. Maternal mortality in the United States is quite low, but in women over 40, it's fivefold higher — 46 per hundred thousand vs. nine per hundred thousand."
The expectant mom knows the risk but is not worrying too much.
"I've prayed about it, and I'm just looking to God to take care of me," she says. "I didn't want to be all nervous and worried about it — I just feel that it's going to be a successful pregnancy."
For now they are deciding on the names. Julius if there's a baby boy after Sallie's late uncle and 'Miracle' if it's a girl.
---
[ad]