A California butcher was in the right place at the right time earlier this week when a mom-to-be went into labour and the baby couldn't wait!
"It happened in like seconds," said Fresno, Calif., store owner Issamar Sepulveda, who cut the umbilical cord that was wrapped around the baby's neck.
Shortly after walking into the grocery store and meat market in Fresno, Calif. on Tuesday, a mom-to-be started screaming 'Oh my God, I think I'm having my baby!'
The cashier, the cook, and the butcher immediately called 911 but all were put on hold.
With the woman on the floor and the baby coming out quickly, the staff wasn't sure what to do next.
All getting down on the floor with her, butcher Alberto Casias took off his burgundy apron just in time to catch the new arrival, Sepulveda recalled.
Not out of the woods yet, the umbilical cord was wrapped around the baby's neck. Sepulveda yelled for someone to throw her a pair of scissors.
"I thought, 'What if the baby dies right here because I'm not doing this right?'" she said.
After the cord was cut from the newborn's neck, Casias wrapped him in his apron and everything seemed to be all right.
"It was teamwork," Sepulveda said.
Shortly after the delivery the baby, however, started to turn purple. To help keep him warm, Casias got his sweater from the butcher area and Sepulveda grabbed a blanket from her office that belonged to her 1-year-old twins.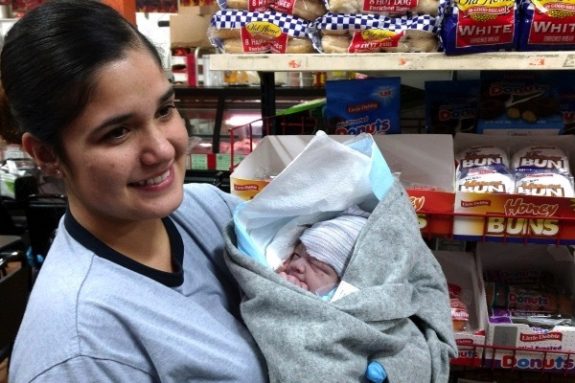 A short time later not one – but three ambulances showed up to transport mom and baby to a local hospital.
Sepulveda said she and her husband knew the new mom as a regular customer named Erica Lopez who would come in to buy food, often with food stamps. The couple would sometimes let her have food if she didn't have enough to cover what she wanted.
Sepulveda visited the pair in the hospital where it was revealed the baby, Toby, weighed a healthy 8 pounds and is doing well.
They have set up a gofundme to get the new mom back on her feet and provide some essentials for the baby.