UPDATE: The king announced on Friday Sweden's new royal baby will be named Estelle Silvia Eva Mary.
"It is a name which is very close to the heart of the princess and also the family," King Carl XVI Gustaf told a meeting of senior officials to announce the name.

Estelle was the name of the American wife of Count Folke Bernadotte. Her maiden name was Manville and she died in Sweden in 1984.
ORIGINAL POST(February 23): Sweden's Crown Princess Victoria and Prince Daniel welcomed her first child early Thursday(February 23), the country's first royal baby in three decades.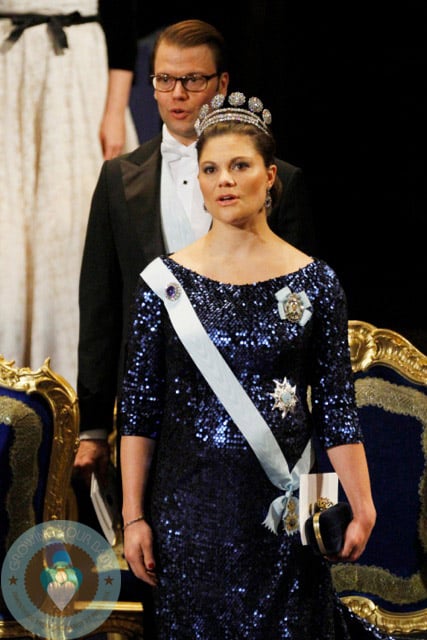 The Crown Princess, who's name will be revealed later this week by the King, was born at 4:26 a.m. at the Karolinska University Hospital in Solna, a suburb of Stockholm. She was 20 inches long and weighed 7.23 pounds.
"When I left the room the little princess was sleeping on her mother's chest and they were looking very cozy," an emotional Daniel told reporters. "The little daughter and the crown princess are doing very well."
The couple were married in June 2010. In August last year, the Royal Court announced that Victoria was pregnant. Victoria, 34, is next in line to the throne held by her father, King Carl XVI Gustaf, since 1973. Sweden changed the constitution in 1980, three years after Victoria was born, to allow the eldest heir to inherit the throne, regardless of gender. Before that female heirs were excluded.
The new dad told reporters he was "pretty nervous" during the birth and that he cut the baby's umbilical cord.
The baby is the first grandchild for King Carl XVI Gustaf and Queen Silvia.
"We are very happy for the Crown Princess and Prince Daniel. We recall our own joy upon becoming parents and we wish the new family a wonderful time in peace and quiet. This is a much longed-for grandchild and we are both very proud and happy today," the king and queen said in a statement.
Related Articles:
---
[ad]