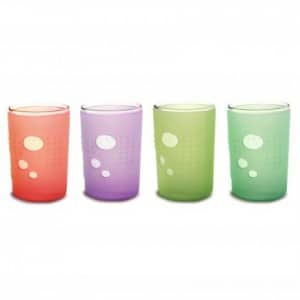 Silikids was founded in 2006 as a labor of love for two friends and mothers, Stacey Feeley and Giulana Schwab.  Having recognized the growing concerns about toxic materials in children's products, Silikids was born; a children's company dedicated to making safe, clean and hygienic products out of silicone.
Silikids combines need-based innovation with the technological advances of silicone, making the company a pioneer in the children's market. In 2010, Silikids debuted a new Home Line; a collection of innovative silicone product offerings for the entire family.  In caring for the planet, Silikids produces products that last and promote reuse with minimal packaging and recyclable products.
The Silikids product line includes:
Siliskin Bottles-8 oz. glass bottles covered with a Siliskin
Silibibs-Soft and easy to clean bibs made entirely from silicone and dishwasher safe
Silipads-Stylish silicone and cotton kneepads for crawlers and toddlers
SiliCup-Glass sippy cup with heavy duty Siliskin sleeve protecting the glass inside.  Comes with silicone spout and travel cap
Siliskin Glasses-Fun, stylish eco-friendly drinking glasses for the entire family covered in Siliskins: 6oz, Juice glass, 11 oz. Rocks glass and 12oz. Zombie glass-
Siliskin To Go Glass-Glass travel bottle with heavy duty Siliskin sleeve for added grip and protection from breakage.
Siliskin for Baby Food Jars-A perfect complement to these jars to solve the problem of breakage.
Universal Siliskins-Range of Siliskins designed to fit a variety of standard and wide neck metal containers, glasses and baby bottles
Right now Silikids is doing a great promotion for teachers to win siliskin glasses for their entire class.
It's easy to enter! Just go to Silikids Facebook page and add Name-School-Teacher for a chance to win a glass for each child.  Deadline to enter is February 14th.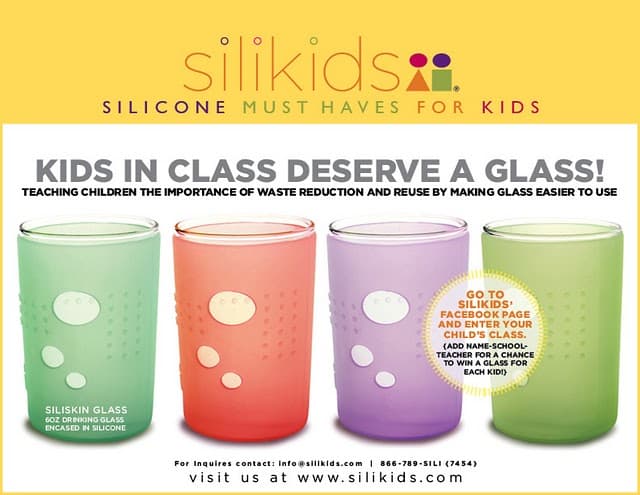 Related Articles:
---
[ad]