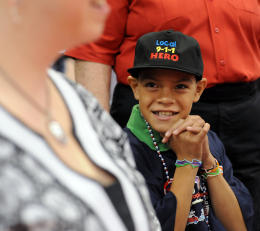 On Tuesday the centre of attention at the George R. Brown Convention Center, in downtown Houston, was Julio Jimenez, a smiling ten year old who received an honor from 911 for Kids National & International. Julio saved his baby brother's life at a time when his own mother panicked.
On April 16, 2009, Julio was at home in Cypress with his mom and infant brother Fernando. Suddenly, Fernando began choking on a piece of a Styrofoam plate. Their mom knew only broken English, but Julio had learned a few days earlier about calling emergency 911 services at school, and that is what he did.
Julio who was 8 years old at the time says, "I was really nervous when I called 911 and when I saw him getting worse, I got more scared."
Despite being scared, Julio stayed composed; he spoke calmly and clearly to the emergency call attendant.
Tammy Parker, the Cypress Creek Communication Center supervisor says it was this mental strength that helped Julio save his brother's life. "Julio was brave, very calm and able to provide us with appropriate and needed information, better than many adults."
Even after the call, while the family waited for the paramedics to arrive, Julio made sure that Fernando was still and monitored his condition. "When they came they told me to relax, and that they had everything under control," Julio said. "I didn't want to leave him alone, even for a second. I was glad they had him, and I didn't have to worry no more."
Fernando was later taken to a hospital where he fully recovered.
Cecelia Moll, the operator who took the call said, "He was able to get on the phone and tell us exactly what was going on. He was a very important part of saving his brother's life that day."
Julio was given a 911 hero medal and a certificate recognizing his bravery.
Impressed by his action Vicki King an assistant chief of police even offered Julio a job, "He would make a fine police officer and would be welcomed to the force at the Houston Police Department."
 – Atula, Staff Writer
---
[ad]