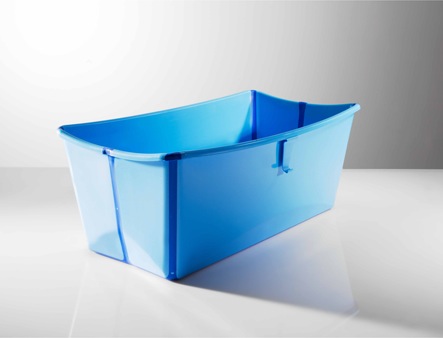 Whether you are short on storage space or not, the FlexiBath is a great option for your baby's bath. This innovative tub not only looks really cool, it folds up flat. Yes, flat. It has sealed flexible seams which means this tub that can hold up to a 4 year old, can be tucked away anywhere, but still won't leak. Having lived in an apartment with a baby I know how amazing this is.


The FlexiBath is generously sized even though you'd never know it by looking at it folded up into a nice tiny little package. Pop it open and you have a great tub that is rated for ages 0-4 years. It has a very handy drain in the bottom, so you can easily fill and drain it in place if you want to just pop it into your tub. If you want to use it on a table, it's a very convenient size for carrying and is not difficult to move without sloshing everywhere. The sides are nice and high, so it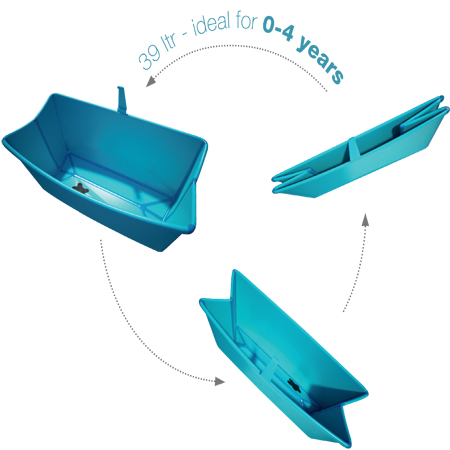 holds its water well. When I lived in an apartment with my first two children we tried several tubs and all were not well suited to apartment living. The folding tub leaked, the inflatable tub was a huge bother to blow up and the hard tub took up way too much space. Even now that we live in a house, the big tub that we bought to accommodate our huge children fills up a huge chunk of real estate in our basement and I am constantly having to move it out of the way. The FlexiBath solves all of these problems with it's amazing flexible fold design that gives you a good sized tub that folds without leaking, takes up a minimum of space and looks great too.
I tested the tub with both my 20 pound 8 month old daughter and my very tall 40 pound 3 year old. Both loved it. My daughter is not quite totally sitting on her own, but she did love the freedom of the tub and had plenty of room to splash about. She sat comfortably throughout her bath and splashed quite a bit, but I remained dry, which rarely happens when she bathes, no matter what tub she is in. Her bath was quick, she had a very good time and we used much less water than we do in the big tub. My 3 year old climbed in on his own, sat very comfortably as well, scrubbed himself with a washcloth and even poured water over his own head to wash his hair, which he never, ever does. The only problem we had was that he refused to get out. He said he liked sitting in the tub, asked for more toys and only agreed to get out after I pulled the plug and all the water drained out.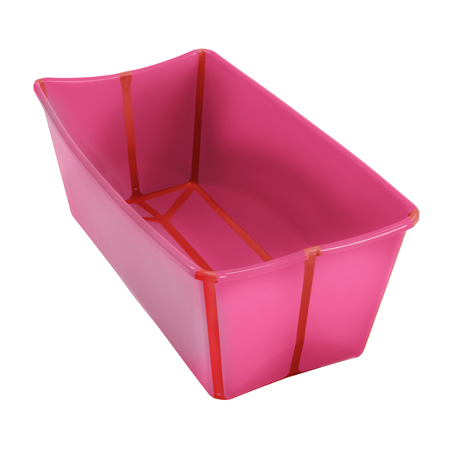 Available in three colors, blue, white and pink, the FlexiBath retails for $39.90. The tub measures 26" x 15" x 19", weighs just under 3 pounds and is very baby safe. It is made from Polypropylene and TPE, so it's free of PVC, phthalates, heavy metals and any other hazardous substances. The TPE seams also provide a non-slip surface for the bottom of the tub. It's a really great little tub that you can get quite a lot of use out of without taking up a chunk of precious space. – Kiersten, Staff Writer

* Thank you to FlexiBath for sending us this sample for review*
---
---