Each year, approximately 70,000 children are seen in the ER in the United States as a result of unintentional medication overdoses.  These steep numbers have sparked a push by the American Academy of Pediatrics (AAP) to streamline pediatric dosing.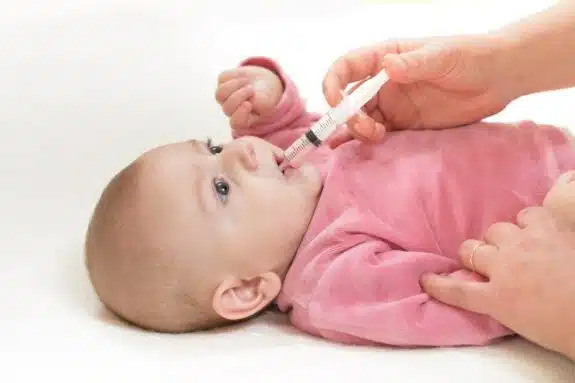 "To reduce errors and increase the precision of drug administration, milliliter-based dosing should be used exclusively when prescribing and administering liquid medications," says the AAP's Committee on Drugs Policy in a statement published online March 30 in Pediatrics.
The AAP also recommends that parents and caregivers use measuring devices that are marked in milliliters as opposed to using kitchen teaspoons and tablespoons. The problem with the spoon, the AAP says, is that they are not precise, and parents could use the wrong one.
According to the committee, led by Ian M. Paul, MD, professor of pediatrics and public health sciences at Pennsylvania State University, State College, volumetric dosing errors and use of the wrong delivery device are frequent sources of medication overdose.
These problems are often compounded by the lack of consistency on packaging and dosage devices,  and inconsistent abbreviations (such as mL, ml, ML, and cc for milliliter).
AAP Urges Simpler, Clearer, Metric-Only Pediatric Prescribing
To improve this situation, the AAP Policy Statement recommended:
use of metric-based dosing with milliliters for all orally administered liquid medications;
using only "mL" as the abbreviation for milliliters;
using leading zeros for doses less than 1 mL (eg, 0.5 mL) to avoid 10-fold dosing errors;
not using trailing zeros after decimals when dosing in whole-number units (eg, 5 mL) to avoid 10-fold dosing errors;
clearly specifying the medication concentration (mg/mL) on prescriptions;
clearly specifying the frequency of administration (eg, "daily") without using potentially confusing abbreviations (eg, "qd," which could be misread as "qid");
reviewing milliliter-based doses with patients and families;
using metric units in electronic medical records and designing software so that providers cannot prescribe medications using non-milliliter-based dosing;
including metric dosing on the label for orally administered liquid medications dispensed by pharmacies, hospitals, and health centers;
including appropriate dosing devices (such as milliliter syringes) with the medication dispensed by pharmacies, hospitals, and health centers; and
having manufacturers eliminate labeling, instructions, and dosing devices in units other than metric.
---