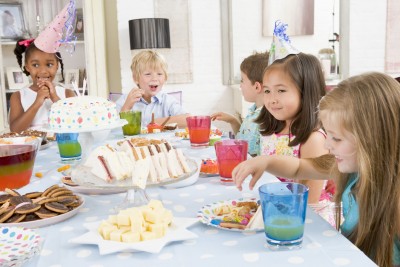 Hosting a dinosaur themed birthday party can be incredibly fun and exciting for young kids. Many children are naturally fascinated by these prehistoric creatures. A dinosaur party gives kids a chance to stomp around and roar, the recipe for an exciting time.

The first thing parents should look at is how they are going to decorate. A dinosaur theme offers several choices for decorations. Most parents will look at a jungle and tropical theme to match the warm, jungle climate that was common during the rein of the dinosaurs. Cut out tropical trees and large pieces of paper grass can be added around the room to create this jungle effect. Another option is to make the party a dinosaur fossil party. Cardboard bones and fake fossils can be great decorations to use around the room. Wikihow shows how to make fake fossils using Plaster of Paris and shells, animal bones, and props. Top the decorations off with cups, napkins, plates, and balloons featuring various dinosaurs.

Games at a dinosaur party can be exciting and fun. Try a dinosaur themed twist on the old favorites. Instead of the standard Pin the tail on the Donkey, try giving kids a chance to Pin the Horn on the Triceratops, directions from Family Fun. Using poster board and markers you can create your own dinosaur just waiting for kids to play with. If you have enough room, fill a sandbox with sand and small toys to give kids a birthday fossil dig that they will love. Parents can also reuse old Easter eggs for a dinosaur egg hunt. Fill the eggs with small toy dinosaurs, stickers, or bone shaped candies. Freeze tag can be also be given a dinosaur twist. Make the child who is "it" a carnivore, while everyone else is an herbivore being chased. Parents may even buy a special dinosaur hat, mask, or gloves to be worn by the carnivore while he or she is on the hunt.

In between all of the excitement, dinosaur coloring pages and stickers are fun, yet calming activities for a birthday party. Parents can buy dinosaur coloring books at most stores, or they can print out pages from Coloring.ws and Coloring Book Fun.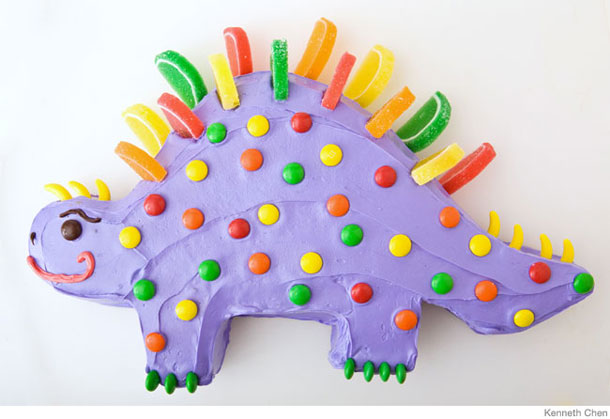 Of course, the center piece to any birthday party is the cake. Making a fun dinosaur cake is not as hard as it seems. Parents who want to skip buying a store bought cake can make a cake in any number of dinosaur styles. Parenting offers a recipe for a cute and colorful Stegosaurus that any child would love to see. Kraft Foods has a diagram for making an Apatosaurus (commonly known as a Brontosaurus) cake. The most requested cake, however, is the Tyrannosaurus Rex cake. Domino Sugar has a very simple recipe for a T-Rex cake that any parent can make.

A dinosaur themed birthday party is a lot of fun for young kids for many reasons. With a little creativity, the dinosaur world can be brought to life for at least a couple hours. – Summer, staff writer

Related Articles:

---