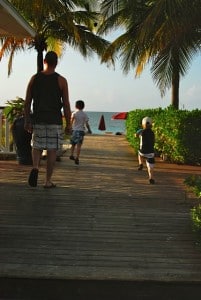 For us, preparing for a trip with the kids can be compared to that of a full scale military operation and long before we leave our house I have to think of almost everything in order to make it a success.
Out of the gate the first key to success is the flight.  Balancing price, departure times and onboard amenities is not only a challenge but an art.  I have to make sure that there are no layovers, an entertainment system and also do this while staying within our budget.  This, unfortunately means that we often travel on unusual days.  I have found in the past that booking a trip from a Wednesday to a Wednesday has saved me hundreds of dollars.  There is also less traffic at the airport and sometimes more room on the plane.
The next hurdle is keeping the kids happy during the flight.  Weeks before we are set to fly I pick up little toys and gadgets that I may be of interest during the flight like activity books, compact building toys and games.
I also wipe both of our iPads and install completely different games, movies and TV shows on each.  This gives each device a longer life because it makes each one unique.  So when one child  gets bored of a game or a series of shows, they can just pass it over to their brother and there is something new on the other device.
For the plane ride home I hide a couple items in my suitcase so that they don't find them while we are away.
Because kids will get sick wherever you are, I pack a first-aid bag that has most of the remedies I use at home including Children's Advil, Suppositories, Ear drops, Benadryl, tweezers, alcohol wipes to disinfect or cleanse, antibiotic ointment, self-adhesive bandages for cuts or scratches, a thermometer and of course – after sun lotion…
Because I know that we will be travelling South in the Winter I always scour the Summer sale racks in June and July for the next size up to set aside.  Last year I managed to pick up 8 Summer shirts, 2 rash guards, 3 pairs of shorts and 4 swim suits for just a little over $100.  The Gap outlet by our house is the best spot I have found because on top of the offer huge discounts on marked down merchandise, you can get an additional 10% off if you use their re-useable tote.
On top of the getting the kids organized there is a good amount of paperwork that you need to have in order to ensure that you are prepared. Making sure that all passports are valid is always the first, and most important step.  After that I print off a copy of each one and keep it in my suitcase in case any of them is lost or misplaced.  I also carry a copy of the 'Consular Services' book that the government offers at the passport office.  Not only does it have a lot of good travel tips, but it lists the location and phone numbers of the Canadian Consulate in every country and Island.
If you are parking at the airport visit a couple of the offsite parking companies' websites and see if there are any printable coupons.   We normally park at ParkNFly and in order to get the deals, you need to input your information BEFORE you arrive at the lot.  ParkNFly in Toronto has 3 locations so we put the dates in and print off a coupon for each lot so that we can chose which one we want to park at when we get there.  Last year we arrived to the airport late so we chose valet, which is the closest.  If we have a bit of time we normally park at economy, the best value but furthest from the airport.
Over the years travelling with the kids has become easier because I no longer need to bring items like diapers, food, baby carriers, and a sun shelter.
With our big trip with Fisher-Price and Royal Caribbean a week away, I have already packed the boys suitcases and laid out my Summer clothes to be added.  Just a couple days before we leave I will grab some snacks and juice boxes that I can throw into the suitcase so we will have something when we hit the beach.
Even though it seems like I have everything covered, I always forget something – and that 'something' is usually MY tooth brush.  But as long as the kids are covered, I can pick up the small things I don't bring at the gift shop.
How do you prep for a trip?
---