Little Rainn Peterson had been staying at her grandparents house with her siblings, while her mom moved, when she disappeared.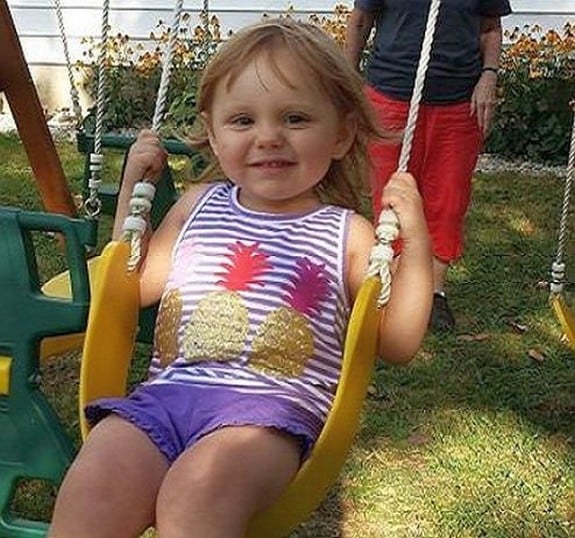 The family had been downstairs when the 2-year-old went missing through what the family believed, the only unlocked door at the time – the garage. As soon as her grandmother realized she was missing, they began searching and called the police.  In just a few hours the BCI (Bureau of Criminal Investigation), the Trumbull County sheriff's office, the FBI, the Marshal's office as well as representatives from the Center for Missing and Exploited Children we involved.
By Saturday, Tom Stewart, of the Trumbull County Sheriff's Office, told Fox 8 that the search had been called off. "We are just puzzled right now," Stewart told Fox 8.  "We have been searching all night."
But volunteers didn't give up, and on Sunday just after 6:30pm a volunteer who was riding around the field on his four-wheeler came across her sleeping in some tall grass.
When he called 911, he could be heard telling the operator, "I found baby Rainn and she's alive!"
At this point she had been on her own for more than 48 hours. During the call the toddler can be heard crying in the background.
"Is that her I hear?" the dispatcher asks. "I hear her. Oh, I just got goosebumps."
"Oh my God, me too," the caller said. "I couldn't give up on this kid. Thank God."
Within just a few minutes, Rainn was placed in an ambulance and taken to a local hospital for evaluation. As of Sunday night, she was in stable condition.
---
[ad]