Emergency crews needed to be called to an bank in suburban Atlanta, yesterday after a toddler got herself locked in the vault.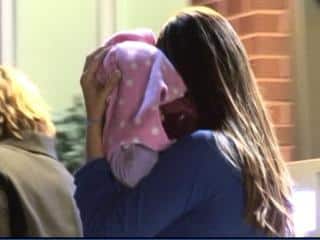 The little girl was at a Wells Fargo bank branch in Conyers around closing time with her mother and grandmother, who worked at the bank when she wandered into the vault and it shut behind her.
Police and firefighters were called, but were unable to open the vault because it was on a timer and had locked for the night.
Conyers Police Chief Gene Wilson told reporters it was a "very tense scene" as authorities and relatives waited patiently while rescue workers pumped fresh air into vents leading to the vault.
While the Safe Technician worked on the vault the baby could be heard crying inside.
After four hours the 14-month-old girl was finally reunited with her family.
"That was one of the better moments I've ever witnessed," Wilson said, adding the girl was fine save a needed diaper change.
The girl's mother and grandmother declined to comment as they took the little girl, snuggled in blankets head to toe, out of the bank and into their car.
Thankfully everything worked out.
Related Articles:
---