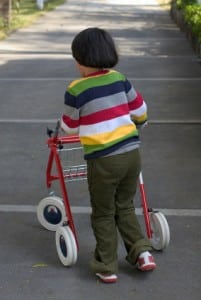 AbilityPath.org an online resource centre for parents of children with disabilities and professionals revealed through its report released last week of an epidemic spreading nationwide. It is the case of special needs children falling victim to bullying as per the "Walk a Mile in Their Shoes" report.
Sheryll Young the CEO of the non-profit called Community Gatepath that created the website said,
"Bullying is every parent's fear. This report and guide were developed to include children with special needs in the national dialogue and to raise the level of awareness about bullying, cyberbullying and the devastating developmental effects it can have upon children with special needs."
The organization spent several months speaking to experts, educators and parents about this important issue and found out that while these special children were most vulnerable to bullying there was also very little available and being done to help them.
The main goal of the report was to create awareness about an issue no one had spoken before and literally ask young and old to "Walk a mile in their Shoes."
AbilityPath.org has collaborated with Special Olympics and Best Buddies to run the "Disable Bullying' campaign that would involve parents, educators and policymakers. They plan to make parents aware of the critical issue, empower them and educators with tools to take action and assist policymakers to bring the issue in the forefront when bullying is discussed.
Noted Glee actress Lauren Potter will be spokesperson for the campaign and will be seen in its online public service announcements.
"This important report confirms the presence of a silent epidemic in our schools and communities," said Timothy Shriver, Chairman of the Special Olympics. He called on young people to join the "Spread the Word to End the Word Campaign," a nationwide drive to end use of the "R" word.
The report pointed to the abuse faced by special needs children and in response to it Rep. Jackie Speier announced "We have to explore every option to protect children with special needs, indeed all children from bullying."
California Superintendent of Schools Tom Torlakson also showed his support for the movement. He said, "I applaud the efforts AbilityPath.org has taken to bring attention to this very important issue; no child should have to endure the cruelty of bullying."
According to Anthony K. Shriver, chairman of Best Buddies "If we can teach young people to respect their peers with special needs, to see them as classmates, as teammates, as friends — and most importantly — as equals, then we stand a good chance of putting an end to this epidemic.
The movement will definitely need all the support it can get to create awareness and change the general attitude towards these special children. – Atula, Staff Writer
Related Articles: