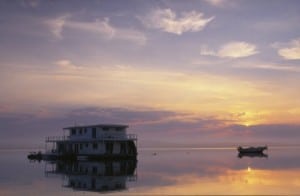 A toddler's frantic screaming and pointing helped save his father's life as the man barely hung on in the Langebaan Lagoon in South Africa. As families celebrated New Year's Day on the lagoon, one family was thankful for their son's desperate concern for his father.
Like many other families, Cleeve Robertson, EMS head and the National Sea Rescue Institute's volunteer national chief medical officer, and his family were celebrating the new year on a rented houseboat at the Langebaan Lagoon. The peace was broken by the sounds of a screaming child. Outside, a toddler was clinging to a rubber tube between the houseboats. Robertson and his family used their ski-boat to rescue the toddler before he got too far away.
After pulling the child onto their boat, the toddler continued pointing and screaming towards the water. There, Robertson spotted a man barely hanging on above the water. The man was holding on to the beam of an unused houseboat, struggling to keep his head above the water. It was obvious that another five minutes and the man would not have made it.
"Once we got to him, we picked him up onto the boat. He was crying and pointing … He was clearly distressed. It was amazing, though, that he was more concerned about his father than for himself."
Robertson rushed out to pull the man out of the water. As they got to him, he passed out, leaving them to drag him onto the boat. Once they had him, the father and son were rushed to the shore where they were medically evaluated. The father had signs of shock and exhaustion from the experience.
No one is sure what the pair was doing at the lagoon, and no names are know at this time.
"We think maybe the toddler was being blown away and the man tried to swim up to him and get him, but got exhausted."
The rescue happened just after high tide. The area where the pair were found is usually safe to be in. However, after high tide the water becomes dangerous. – Summer, staff writer
Related Articles:
---
[ad]