When Christina Totera developed gestational diabetes during her pregnancy, she expected her baby to be big. But no one predicted baby Aubree to arrive weighing more than 14 pounds!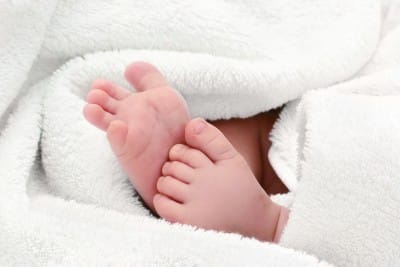 Not due until February 8th, the baby girl tipped the scales at 14 pounds, four ounces when she arrived by caesarean section at 2:38 p.m. on Jan. 23.
Initially Christina's OB had thought the baby would be 8 or 9lbs, but that estimate was bumped up to 11lbs when she visited the doctors on Jan. 17.
By Jan. 22, she was warned the baby would be even bigger and was booked in for a c-section the following day.
The new mom says she only gained five pounds in the first eight months of her pregnancy but put on 10 pounds in the last month.  All of the gain, it appears, went straight to the baby!
When she arrived she surprised everyone in the operating room.
"Every single nurse and my doctor was, 'Oh my gosh, how much does this kid weigh?'", Christina told The Mirror.
Born twice the size of an average baby, Aubree is now wearing 3 month-old clothes.  Her mom says she doesn't eat more than a regular newborn, but is hard to carry for extended periods because of the surgery.
"Because I had a C-section, it hurts to hold her too long," Christina added.

"Mostly, she just hurts your arm."
Christina is also mom to 4-year-old Kaylee, who weighed half of what her younger sister did when she was born.
Recently, two babies who arrived weighing over 14lbs, in Toronto and California, were hospitalized for breathing and blood sugar issues.  Thankfully Aubree appears to be doing well.
When asked how the family is doing since her arrival, the new mom said: "We're perfect."
---
[ad]