The designers at Fisher-Price have been busy!  Earlier this week I had the chance to visit their showroom at Toy Fair and am excited to show off some of the great new products you can expect to see in stores later this year!
Building on their popular baby gear and newborn toys line, Fisher-Price will introduce a soft infant positioner, kick and play piano gym, and a new Jumperoo!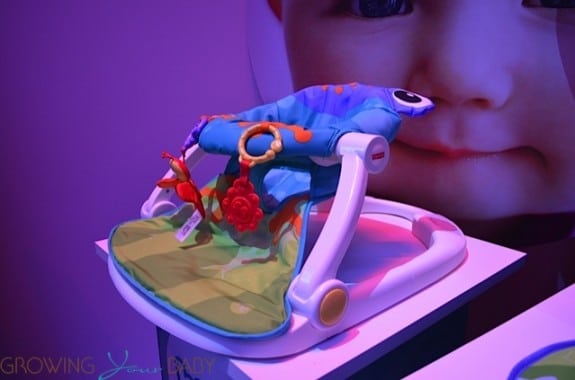 Parents are going to love the versatility of the new jumparoo. We have a quick 1 minute video demo here: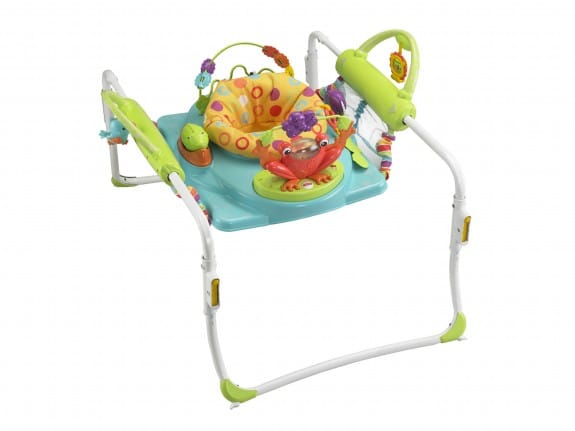 In Fall of 2014, Fisher-Price will roll out Smart Stages technology into their Laugh & Learn product line, enabling parents to easily input their child's age for automatic content updates or manually change the learning stage with a switch. Content keeps baby engaged as they develop, and offers longevity of play value to parents.
The collection will include the popular Crawl Around Car that was introduced last year, an adorable smart stages chair, a train, and home.
Babies love to have their own space to mimic their parents and this "magic" ABC offers them a spot of their own. This new collection offers three levels of play that include fresh songs, phrases and sounds that match your little one's age and stage.
This Spring(May 2014), FP will debut a couple new infant fundamentals toys.  The 3-in-1 Bounce, Stride & Ride Elephant features three "grow-with-me" ways to play to get baby moving: sit and bounce; stand and walk; scoot and ride.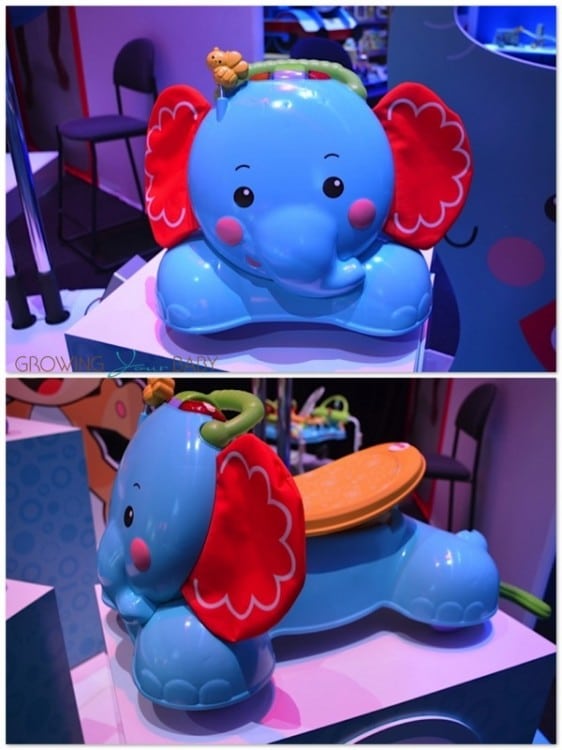 The Roller Blocks Play Wall includes four colorful Roller Blocks that baby can drop, stack and slide activating fun sounds.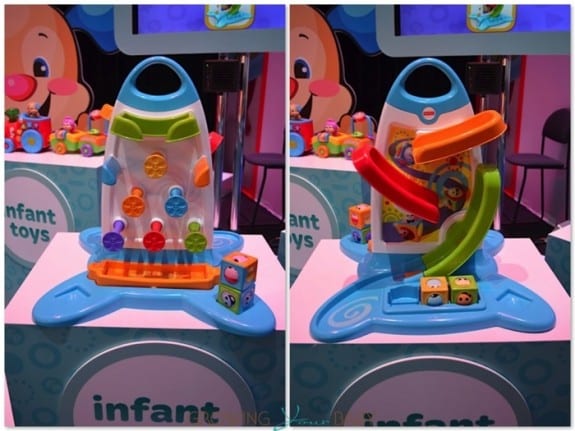 Building on their very successful Little People line, Fisher-Price will introduce three new playsets this Summer and two new toys this Fall.
The Little People Musical Preschool($39.99) features an outside entry for getting off the bus and lots of places to discover action and musical rewards – an art easel, a hamster wheel (spin it), a dino (push on its head) and a fish tank (push on top).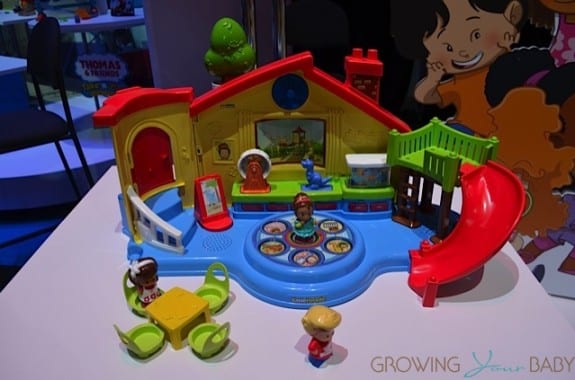 The Little People® Day at Disney set($49.99) captures all the magic and excitement of a visit to Disneyland® Resort! Mickey Mouse and Eddie can take a"spin"on the Tea Cups ride, cruise on the"it's a small world" boat, and ride Casey the Train down the ramp, or even hear and watch simulated fireworks after a long day of fun.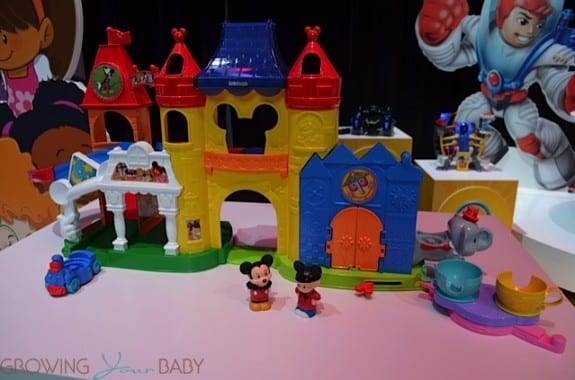 At 3ft tall this set is larger than ever!  The Little People® Wheelies City Skyway($39.99) ramps up the zipping, zooming racing fun by using "randomizers" throughout that will switch the car to different paths. Cars will enter through one ramp, but can be sent down one of three paths!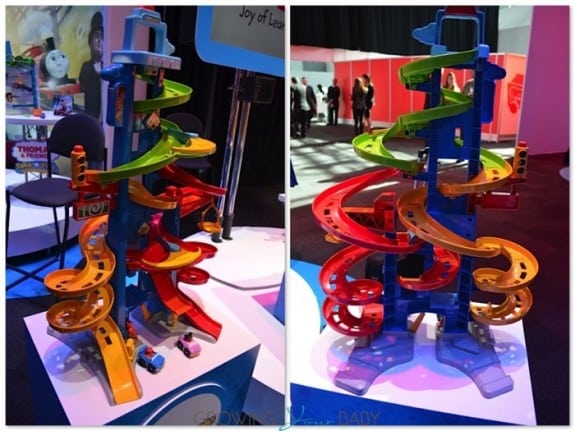 This year Imaginext will deliver Cosmic Chaos for the ultimate Imaginext® space experience. It's less science and more fantastical, imaging characters like Tenticlor and vehicles like a Battle Rover($119).
Imagine the fun you can have with an oversize six-wheel vehicle which features a self-lifting mechanism with a motorized firing space ship. Enjoy hours of play with the large claw arm featuring spring-loaded pincher,light up alien holding chambers, spinning front drill and rotating saw. The Rover features more than 15 lights,and 200 unique sound effects and phrases,a transforming and removable space shuttle with its own projectile launchers, three figures and a small vehicle. Size and format of the toy allows kids to actually steer and drive the adventure.  Available in September 2014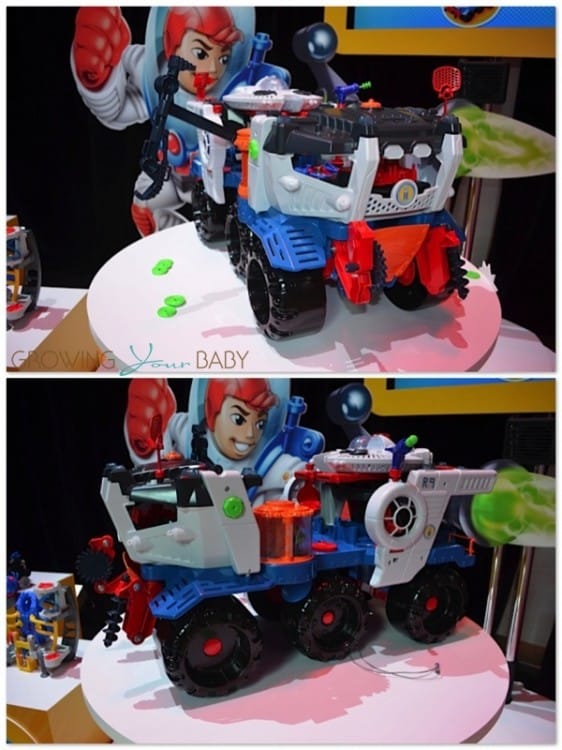 Video preview below!
In addition, there will be an Imaginext® DC Super Friends RC Transforming Bat Bot($69.99) and Imaginext® Space Alpha Explorer($29.99).  They will be available June 2014 and November 2014 respectively.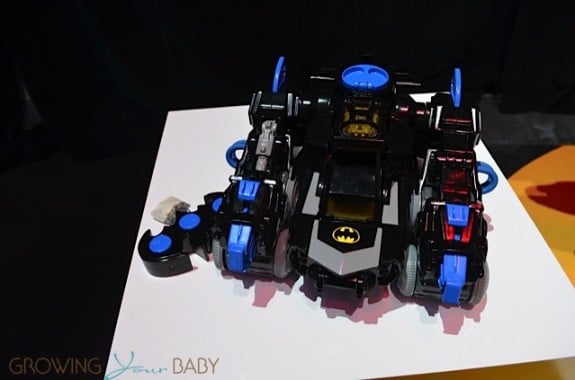 This fall TrackMaster motorized engines have been redesigned with enhanced speed, power and performance. The engines go faster and climb higher than ever before, driving Thomas & FriendsTM to greater speeds, taller heights and bigger adventures!
Available August 2014, The Thomas & Friends TrackMaster Avalanche Escape Set($69.99) and Thomas & Friends TrackMaster Treacherous Traps Set($29.99) are sure to be a hit with fans of the Thomas & Friends Tale of the Brave Movie!
Quick 1 minute video below: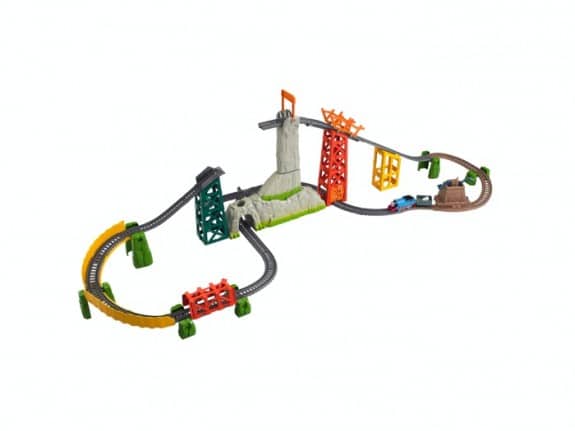 Fisher-Price also has 4 new Thomas & Friends wooden sets coming out in August 2014!
The Thomas & Friends Wooden Railway Lumber Yard Waterfall Adventure($139) is a play table-sized trainset that is built around the Sodor Lumber Yard. Thomas picks up sawblade cargo from the crane and brings it to the logging mill to help cut down logs. Features easy re-set so you can play over and over again!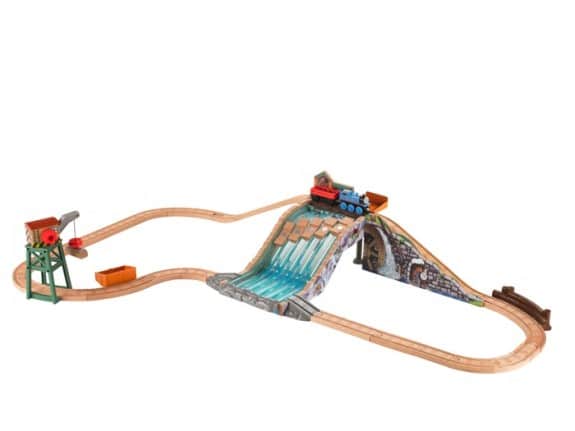 Available August 2014 – the Thomas & Friends Wooden Railway Thomas' Fossil Run($129) Playtable-sized train set that takes your little one from the Clay Pits to the Sodor Museum. Includes Thomas engine with cargo car, Timothy engine, two fossil cargo pieces, and boulder.
Thomas & Friends Wooden Railway Up and Around Sodor Adventure Tower ($199)is a vertical tower that delivers 360 degrees of play on three levels with curved tracks so you can send your engines to several locations. Deliver cargo on the middle level and use the tunnels to send your engines from one location to the other.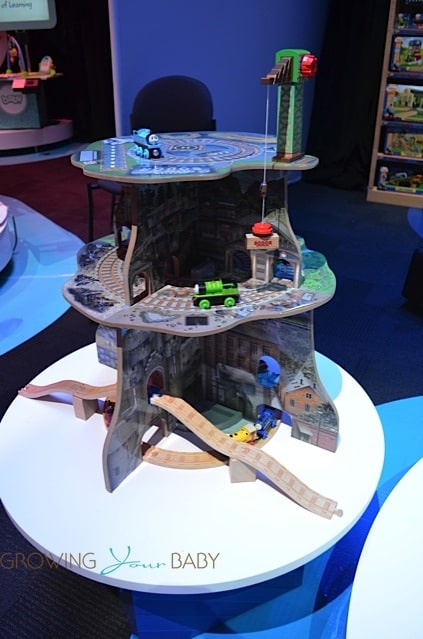 The Thomas & Friends Wooden Railway Mix and Match Set allows kids to build and create their own town!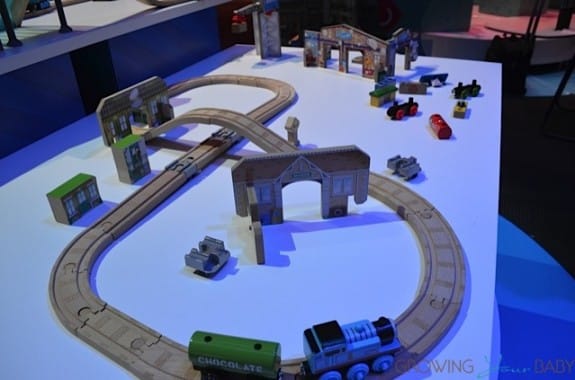 ---
[ad]