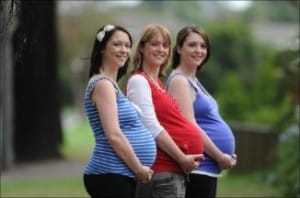 Any parent that has given birth to more than one child at a time can tell you that it is downright mysterious sometimes the way that the children experience things together. The Calladine sisters, triplets born 26 years ago, recently gave the world a beautiful mystery to talk about.
The three sisters, Natalie, Lindsey, and Deborah were born on the Isle of Man in 1984 at the Jane Crookall Maternity Unit. They have been inseparable ever since. The three women still live within just minutes of each other. They still finish each other's sentences and talk on the phone at least three times a day. This is rather common for children born at the same time. These women, however, now have something new to share.
All three women became pregnant within just ten days of each other. They recently gave birth to baby boys within just days of each other. The first two gave birth within four hours of each other and the third sister gave birth just two weeks later. The sisters were even admitted to sequential room numbers, in the order of their birth.
While all three women having children just days apart seems all to coincidental, Natalie Bourke told reporters, "It's not like we all sat down and worked it out on a calendar." Natalie's statement was given in response to the nurses at the hospital that just couldn't believe that the sisters had not planned the experience to happen together. According to the Calladine sisters, they were meant to share this beautiful and joyous experience together.
---
[ad]