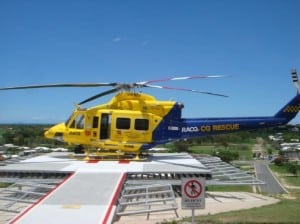 An RACQ-CQ rescue helicopter recently completed its fourteenth year in service, on September 1, 2010. Just three days later on a routine pickup another milestone occurred. The passengers onboard the helicopter (a pregnant women and her husband) were being transferred from Hamilton Island back to the mainland because the mom-to-be was in labor, forcing the crew of the rescue helicopter to deliver the baby in mid flight.
"Flight paramedic Mel Bernas delivered the baby while the aircraft was on decent into Mackay airport only 14 minutes prior to landing".
The couple was just married the day before on Hamilton Island and was enjoying a relaxing honeymoon. They received their most memorable wedding gift a day late, with the arrival of their unborn child.
And even though the baby was just 26 weeks gestation, mom and baby are doing well, as no complications occurred during the mid flight childbirth.
Next year the new parents will have two occasions to celebrate just one day apart; the celebration of their vows and love for each other followed by the celebration of the first born child. – Jeff, Staff Writer
Related Articles:
---
[ad]