Cunard's Queen Mary 2 docked in Brooklyn on Sunday with one extra passenger after a mom, who was traveling from Southhampton, England gave birth while the ship was at sea.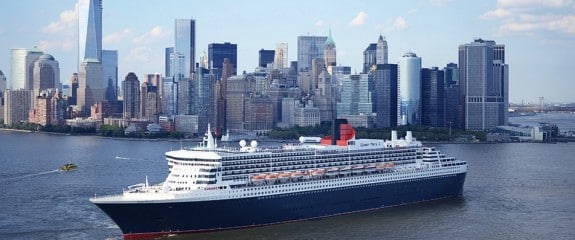 Despite the cruise line's rule that moms-to-be cannot cruise once they have reached 24 weeks gestation, German mom Johanna was 37 weeks pregnant.
As the ship neared the end of its trans-Atlantic voyage the passenger's water broke sending the ship's crew into action.
Johanna's brother told the media that, "She turned to me and said, 'It's starting!'"
That is when he rushed her to the ship's small hospital, where a doctor took charge as the ship neared Brooklyn.
When the ship arrived at the Red Hook Cruise Terminal around 6 a.m. on Sunday, mom and baby were rushed to New York Methodist Hospital the FDNY said.
"I am doing well, and the baby is incredibly healthy. I am also thankful how good the people of New York were to us," Johanna said.
Benjamin is her third child and first boy, she said.
His uncle added, "[The child] was born in American territory — so that makes him an American boy."
Adding that,
"The captain told me it's the first time a baby has ever been born on the Queen Mary 2!"
The new parents had planned to travel with her brother to Canada after arriving in New York. Now they will likely stay in the city to recoup.
Brooklyn was the Queen Mary 2's first stop on a four-month-long, 41,000-mile, around-the-world journey.
Let's hope the rest of their journey brings less excitement!
---
[ad]