A shockingly high number of infants and toddlers are injured each year in crib and playpen accidents. These findings come from a hospital study over 19 years.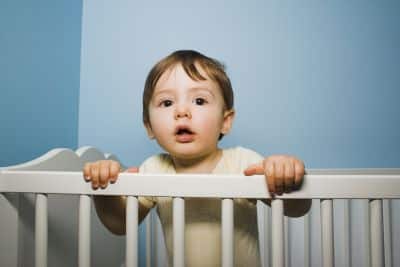 Most of the injuries come from young toddlers attempting to climb out of the cribs and playpens, usually around ages 1-2. According to the researchers, better safety efforts are needed to prevent many of these accidents. The recent ban on drop-side cribs is just one way to make these accidents less common.
Dr. Gary Smith, director of the Center for Injury Research and Policy at Nationwide Children's Hospital in Columbus, Ohio, was the lead researcher on this study. He found an average of 26 infants are injured each day due to falls and other crib-related accidents.
The timing of this study was planned to meet the U.S. House subcommittee hearing Thursday on consumer product safety issues for cribs. The researchers want to make a point about crib safety and how tight regulations about cribs and playpens need to be. A 2008 law put crib manufacturers under tight restrictions for safety, however, that law may be lessened under newer guidelines.
Dr. Smith says parents can help prevent many of these injuries by lowering the mattress on the crib as soon as the child is tall enough to look over the side. This can prevent toddlers and infants from attempting to climb out of the cribs and getting hurt. Parents who still have drop-side cribs should never leave their children unattended in the crib when the side is lowered.
Parents should also move their children into toddler beds instead of cribs and playpens when they reach 36 inches in height. – Summer, staff writer
Related Articles: