Today is an exciting day for Karoline and Ben Byler. The first of their six babies has been given the okay to go home.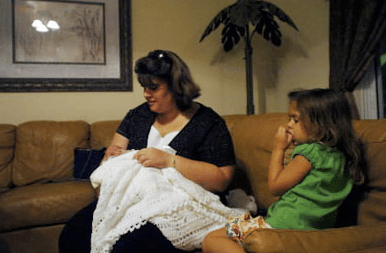 Brady, Eli, Ryan, Jackson, Charlie and Mackenzie Byler arrived into the world on September 1st.
The sextuplets arrived 11 weeks early all weighing under 3lbs.While all of the babies are growing and getting stronger, Brady has
"stepped up to be the first one out [of the hospital]," Karoline Byler said at a news conference before leaving Bayfront. "He wanted to be the big brother."
The family has been waiting for this day since the babies arrival 6 weeks ago, by Caesarean section at Bayfront Medical Center in St. Petersburg. Brady's siblings remained next door at All Children's Hospital with Mackenzie Margaret, the only girl, expected to come home Sunday.
"Brady is the big eater – that's what he's famous for," Karoline Byler said.

Ben Byler added, "And he's the strongest one."

That appetite, his taking to the bottle feedings of pumped breast milk, contributed to Brady becoming the first one home. He also was the first baby delivered.

Neonatologist Carine Stromquist, who cared for Brady at the hospital, said the four checkpoints for a baby to go home are taking every feeding by mouth, maintaining stable body temperature and respiratory functions, and weighing at least 4 pounds. Brady, now 4 pounds, 12 ounces and 16 1/2 inches long, has gained 2 pounds and 4 ounces since birth.

He wears a sleep apnea monitor in case he stops breathing temporarily, a condition he experienced several weeks ago. The Bylers were instructed in infant CPR and other care procedures while spending Monday night alone in a hospital room with Brady as practice.
The family has set up 3 cribs in one room for the babies to sleep in. Their house has 3 bedrooms, 2 of which are occupied by big sister Zoe and mom and dad.
No plan is currently in place for when the babies will need their own cribs…
My suggestion – corner cribs. They are fabulous and take up the least amount of room. Plus the family can put four together to make a circle in the middle of the room leaving the walls available for changetables.
Ben Byler converted the garage into a playroom, and a space off the babies' bedroom now has three Pack 'n Play Playards in which infants can nap and play. The window sill of that area has six baby rubber duckies as well as momma, papa and little sister rubber duckies.

The family also will need something larger than the six-seat minivan they drive when everyone comes home. Four more green car seats and one pink one await the rest of the set.
Related Articles:
---