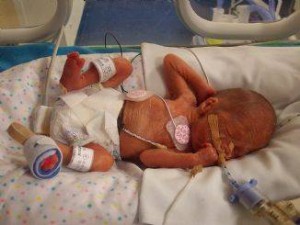 When Tamara Richardson's water broke at 21 weeks doctors told her that if the baby arrived before 23 weeks he would have little chance of survival.
So for 16 days the mom-to-be sat patiently on bedrest before being transferred to a women's hospital. Then in preparation for the baby's possible early arrival, she was moved again to a hospital with better facilities a mere three hours before her son made his unexpected arrival.
During a trip to the toilet, without and warning or contractions, baby Kian arrived, landing it the bowl.
"I didn't even know he had come out. I panicked and pressed the emergency button," she said.
When nurses arrived, they scooped him out of the toilet and cut the cord.
They then gave him adrenalin to get his heart going and resuscitated him – it took a harrowing seven minutes, but he came through.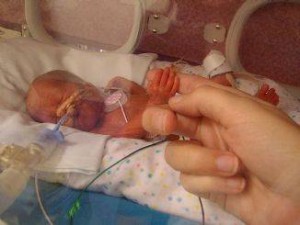 Arriving at just 33cm long (the length of a ruler) and 695 grams, the little baby definitely has a long way to go.
But now 3 weeks old, has already survived a lung infection and needs blood transfusions every few days.  Brain scans show there is no damage and he is perfectly formed.
Doctors figure that he still faces another four months in the humidity crib until his weight reaches 1.8kg.
"We are not really safe until he hits 32 weeks," Mr Richardson said.
When he does come home, the family, including big sister Ayla, 2, is planning a big party and so they should. Not only has he survived arriving 15 weeks early, but he didn't get the quick intervention that most preemies get on arrival.
Related Articles:
---
[ad]