The arrival of Aya Jayne Soliman this past weekend was bitter sweet for new daddy Mahmoud Soliman.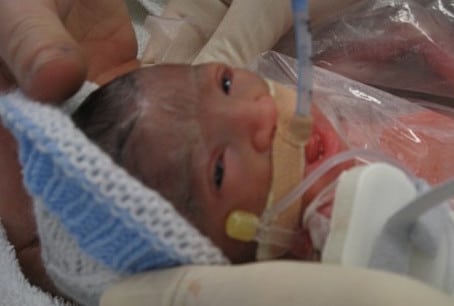 The tiny 26 week old baby is the only living reminder that Mahound has of his late wife Jayne.
The mom-to-be passed away suddenly last Wednesday after suddenly collapsing in her bedroom complaining of a headache.
She was flown by air ambulance to John Radcliffe Hospital in Oxford but hours later, in the early evening, was declared brain dead.

Doctors told devastated Mr Soliman that an aggressive tumour had rapidly developed in her brain in just a few weeks – and had suddenly ruptured a major blood vessel.

But although she had suffered brain death, her heart could still be kept pumping on a life-support machine, and the doctors were hopeful her daughter could be born.

A mother's body remains the best incubator for a baby, even if she is brain-dead, but it is still wise for birth to be carried out as soon as the fetus is considered viable because infections can develop and spread to the baby.
Ava Jayne arrived by caesarean section at 26 weeks weighing just 2lb 11/2oz. Even though she is so tiny she's doing well. Just after delivery, she was kicking and wriggling.
Babies born at this gestation have an over 70% chance of survival. I hope for this daddy's sake this baby thrives in the NICU and he is able to bring her home.
It is sad that he has had the best and the worst day of his life within such a short space of time.
Related Articles:
---
[ad]