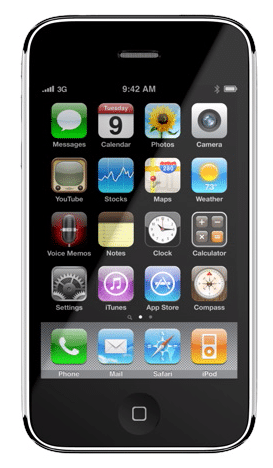 Apple's iPhone has taken the information age to a new level by offering users the ability to customize their phone with applications relevant to their lifestyle. While there are thousands of apps offered, the ones I love are the programs that benefit parents.
We have put together a list of applications that will keep your a bit more organized and informed.
Here are a few we like:
The Baby Namer – this free app is great for parents who are having a tough time deciding the perfect name for their baby. The baby namer

---
iPregnancy – This awesome app was created for expectant couples to stay current on what is happening in utero. Parents-to-be can look at 3D pictures relevant to their gestation , track their developmental progress and look for baby names. It is also a great app for dads-to-be to download so that they can feel connected to their unborn child.$2.99
---
---
Total Baby – Keep track of your baby's schedule with this app. Track last diaper change, how long the baby has been sleeping, last time they ate and how much. Breast feeding moms can keep track of which side they used last and how long the baby fed for. This $4.99 app could possible replace a $60 unit that is marketed to do the same.
---
---
Baby Sign ASL – I am a big baby signer and I LOVE this iphone app. It shows parents the right baby signs for over 200 words. $4.99
---
Baby Monitor – This cool app can act as a baby monitor when one isn't available. Just set it beside a sleeping baby and program it to call you at an alternate number when the baby wakes. Great for a visit to Grandmas! $4.99
---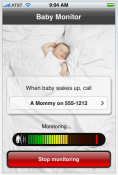 ---
Baby Milestones – Track your baby's milestones with this app. Includes 51 milestones and 20 special moments to get you started!Parents can recors their baby's height and weight and the app will plot it against the World Health Organization's guidelines. $4.99 (includes desktop app as well)
---
---
Kid Friendly Restaurants – If you are out of town and need some good kid friendly suggestions, this free app is for you. It uses the phone's GPS to obtain your location and then gives you some close by suggestions.
---
Find Parks – This free app works similar to the app above. It uses the phone's GPS to obtain your location and then gives you the closest park. Great for traveling families!
---