Alicia Silverstone was spotted nursing her son Bear Blu as she walks down the street in Brentwood, California on Wednesday(March 27).
I absolutely LOVE this image. It is so matter of fact and natural.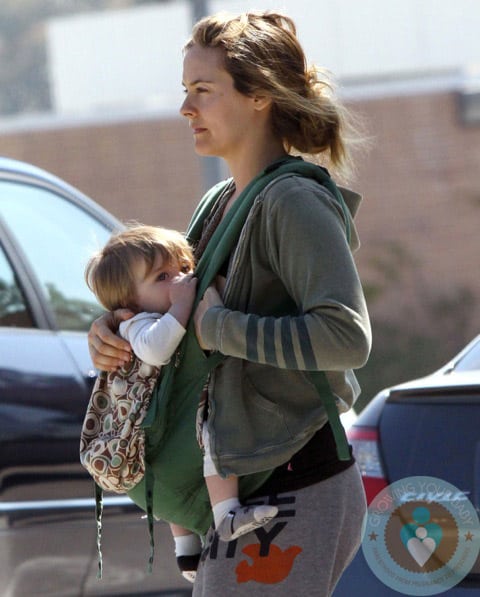 Babies are born without inhibitions or self-consciousness and this little guy doesn't care where he is when he is hungry, he just wants to be fed. I love that she has taught him that he should be comfortable nursing anywhere, anytime.
The actress has been making some waves in the parenting world this week after she released a video of herself feeding Bear chewed up food directly from her mouth. The clip, which has been viewed over a million times has many arguing passionately on both sides of the issue. Moms have stepped forward and noted that most of us have pre-chewed our children's food but normally spoon feed their child with it.
Doctors, however, are calling the practice dangerous. They say that swapping food from mouth to mouth puts kids at risk of catching a cold and can contribute to tooth decay, or worse.
"Word is Alicia Silverstone chews her food for her child. Don't follow in her footsteps," Delta Dental of Iowa tweeted this morning. "You can pass dental disease!"

"Bacteria are passed when items contaminated with saliva go into a child's mouth," the insurance company warned in a recent press release. "Most parents don't know they can pass harmful bacteria from their mouth to their baby's mouth, which can put their child at an increased risk for cavities."
Are they going too far? I bird fed my youngest son for a long time. Not every meal, but just food I was eating that was too hard for him to chew and he loved it. I didn't do it for full meals but just with my food that he wanted a try. It wasn't a feeding technique I planned on – it just happened.
If I were to guess this is not the only way Bear eats solids and that Alicia probably only feeds him this way out of convenience when he wants what she is eating.
{FAME/FLYNET}
---
[ad]