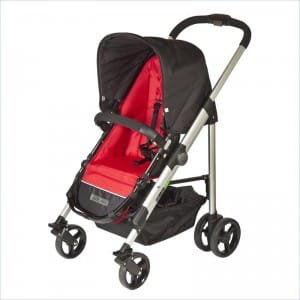 Earlier this year we introduced you to, Canadian stroller company, Guzzie+Guss and their stylish G+G042 Stroller.  Now we're happy to present the Guzzie+Guss Denman 051 Stroller.  Perfect from birth+ this lightweight stroller is a super compact travel system that can go from park to plane.  Famous for creating modern stylish strollers Guzzie+Guss' gear is functional, practical and easy on your wallet!
Getting started:
The model that we tested came assembled so we aren't able to speak to the ease of assembly.  I want to take a few minutes to talk about the ease of opening (and closing) the frame of the G+G051.  This is by far, one of the easiest strollers to open and fold that I have EVER used!  Simply click the lock on the handle and push the button directly below it and the stroller opens.  I love it!
Features:
The G+G 051 has been designed to be used from birth+ which makes it great for longevity.  For infants, Guzzie + Guss sells an optional universal car seat adaptor (retails for aprox. $60.00) which simply slips onto the frame of the G+G051 converting it to a travel system and allowing you to use any infant car seat you choose.  I love the versatility of the universal car seat adaptor – with many travel systems you are locked into using a specific brand of infant car seat so it's great to have the option of using whatever I choose with the G+G 051 Denman Stroller.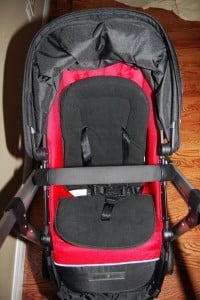 Once your child is a little bit older  (3 months+) they can be moved directly into the stroller seat.  The seat comes with an additional pad that can be removed when your child gets older but also adds a little bit of cushion and comfort for the wee ones – and it's washable which is a bonus for every parent!  The seat is wider than most and it can hold a child up to 55lbs, so even older toddlers who need to hitch a ride once in a while can take advantage.
The G+G 051 features and adjustable 5 point harness and a full recline making it ideal younger infants or napping babies. To recline the seat you simply push the buttons on either side and tilt back and forth.  The seat configures to three different recline positions;  up-right, reclined, and fully flat.  Another great feature is that the seat is reversible which is awesome for when babies are young and you want to keep an eye on them but then as they get older and want to see more of the world you can simply turn the seat around.
To accommodate a growing child the footrest on the seat is adjustable.  By simply pushing two buttons on either side of the footrest it can be raised or lowered to the desired position.  One thing to note is that when the seat is fully reclined the footrest does not lie flat, so your child's legs will be raised a little.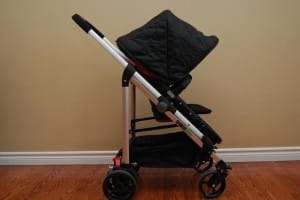 One of the most important features on a stroller is that the canopy is large enough to protect your child from the elements (sun, wind or even snow) while also being sturdy enough to hold up to inclement weather. I like that the G+G 051 features a full hood that is huge.   During a trip down South recently it provided enough coverage that I didn't have to worry that my son might get too much sun when he napped.
It is worth noting that the canopy does not have a peek-a-boo window that allows you to check in on your child.  While I know this is an important feature for some parents, I personally never use in on any of my strollers that do have them – so it's probably a matter of personal preference.
With many buggys on the market the rain cover is an optional accessory available at additional cost, however with the G+G 051 Guzzie + Guss have included it in the package which is great for those who live in climates where they have a lot of rain or snow or for those of us who stroll regardless of the weather conditions.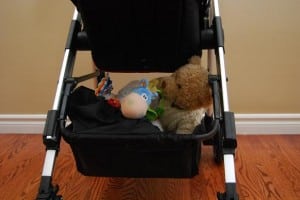 As with the other Guzzie + Guss strollers, the G+G 051 features the gigantic drawstring storage basket.  Let's face it if you have a baby you end up carrying a lot of stuff and this basket is sure to keep all that stuff safely stowed.  With a volume of 2400 cu in. / 39.99 litres you can load a ton of stuff into the basket and the drawstring makes sure that your cargo can't fall out.
In Use:
I really like this stroller and have taken it with me everywhere over the last couple months. The handle is not adjustable, but it does sit at a comfortable height allowing even the taller of parents to push it comfortably.  I have yet to kick the wheels while pushing so to me it's perfect even though it doesn't adjust.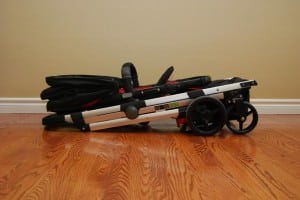 The frame of the G+G 051 is only 16lbs making it quite lightweight so you can easily get it in and out of your car or take it on a trip.  We did take this stroller on a recent family vacation and I found it really easy to take my son in and out of it at the airport, collapse (very small) for scanning and then easily (and quickly) re-open – which is important because when you're travelling with a stroller the last thing you want to do is to clamber around with a clunky hard to manage stroller.
To give the G+G 051 a smooth push Guzzie+Guss uses two 6" wheels in the front and four  7" tires in the back with rear suspension.  The swivel front wheels allow you to easily maneuver the stroller in tight spots.  They also lock in place if you're going to be on rougher terrain.  We locked the wheels for a few areas where there were cobblestone streets and when we were headed to the beach and we didn't have any problems.
The breaking system on the G+G 051 is very easy to use.  Simply push the red foot button to lock and push (or give a little kick) to the grey one below it to disengage.
Like with the simple unfold, the fold on this stroller is just as easy…simply click the lock, push the button and push down the stroller folds up in under 3seconds.  A bonus is that it has a self stand feature, which ensure that it will stay in the standing position if the front wheels are locked so you don't need to worry about the fabric getting dirty plus it makes for very easy storage!
Thankfully I didn't have any accidents that required me to clean the G+G 051 yet, however, the 600 D Nylon fabric is able to be spot cleaned easily.
Round-Up:
As I mentioned I think that the G+G 051 stroller is a great option for city or suburban parents.
When we tested it, it worked great in a number of conditions from the mall and smooth pavement to icy roads and sand.  While this isn't an all-terrain stroller it does hold its own in some adverse conditions.
One of the things you'll notice about the G+G 051 is that it doesn't have a cup holder; however, Guzzie+Guss does sell an optional cup holder.  The cup holder is awesome – it's universal so it can attach to any stroller and it works amazingly, however I'd really love to see a cup holder or parent tray included with this stroller as we all need a place to put a few of our "must have" items like keys, cell phone, drink, etc.

Available in four colors (Aqua, Periwinkle, Red & Grey) and retailing for $399.99 Guzzie+Guss Denman 051 Stroller gives the parents the versatility and longevity they are looking for in a stroller while also giving them the functionality and adaptability that we can't live without.
Specs:
| | |
| --- | --- |
| Designed for Children Aged: | 3 Months to 5 years |
| Max. Weight Limit | 55 lbs / 25 kg |
| Weight (Frame) | 16 lbs / 7 kg |
| Seat to Canopy | 29" |
| Seat Width | 11 in. / 28 cm |
| Seat Depth | 9.25 in. / 23 cm |
| Handle Height | 40 in. /104  cm |
| Stroller DimensionsOpen | (L x W x H)                       21.75 x 27 x 40.5 in. / 55 x 67 x 103 cm |
|  Stroller DimensionsFolded | Folded (L x W x H)                     40.5 x 21.75 x 11 in. / 103 x 55 x 28 cm |
Likes:
Lightweight frame
Huge sun canopy
Basket underneath has a drawstring so nothing falls out
Optional Universal Car seat Adaptability
Wish List:
A cup holder included
One handed recline
Vent or parent window in the canopy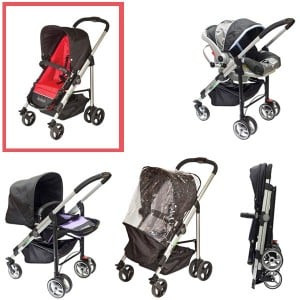 *Thank you to Guzzie+Guss for sending us this stroller for review*
---
[ad]