Justin Haake, a 9-year-old boy from Orem, loves football. And he's loved playing on his Mountain View youth football team. The team's coach, Justin's father, Chris Haacke, has loved spending time with his son on the field.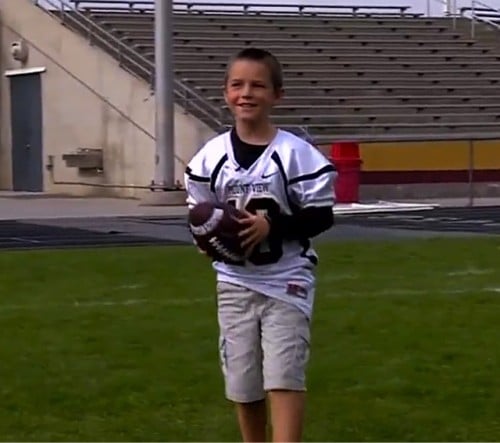 "Justin is the sweetest boy," Crystal Haacke, Justin's mom, told KSL News. "It's been a really fun thing for him to be with his dad."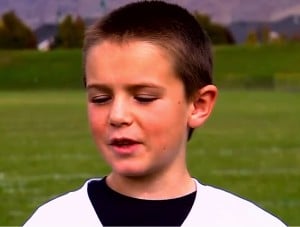 Unfortunately, this season will be Justin's last. He is on the autism spectrum and despite Justin's love for the game, his parents have had to make a very difficult decision. The effects of his disorder have made it too difficult to play and his parents decided that he will no longer play because of concerns for his safety.
"He does his best and goes out there and plays as hard as he can," Chris Haacke told KSL News. "Even though he has his limitations, he still gives 110 percent on the football field. As a football coach, and a dad, that's all you can ask for from your son."
Knowing just how much football meant to him, Chris wanted to give Justin something special before the season ended, something he would remember for a long time. So before the team's last game for the year, Chris spoke with the Juan Diego coach, sharing the idea he'd come up with.
"We would like to set up a play for one of our players who has autism," Chris told the Juan Diego coach. "We would like to have him run for a touchdown and let him go out with a bang."
The Juan Diego coach agreed to the play.
"I ran to the end zone and the other coaches said, 'Hey, Justin, here's the play. You're going to get the ball, and you're going to run to the end zone and run right for your dad," Chris Haacke recalled.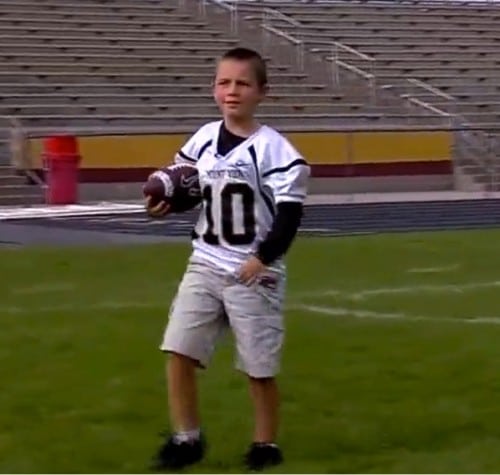 With his mother and the crowd cheering, Justin took the handoff and followed his blockers into the end zone, right to his dad.
"Nobody even tackled me because I was too fast," Justin told KSL News about the touchdown.
And in that moment, many of those who watched were touched and inspired.
"Oh wow. That moment was great," Crystal said. "I don't know if anything else that we could have done for him would have given him that moment. Where he was just the best in that moment that he could have been, that he ever will be."

"The pure joy on his face when he got in there and both teams surrounded him and patted him on the head and were cheering for him. It was overwhelming," Chris said.
The family hopes that their son's special moment can help build awareness about autism and what it really means for families that deal with it each and every day.
"Autism is hard," Crystal said. "But there is so many joyful things that come. That experience showed me how many people out there really, really, really are just good and they want a little boy to feel good in that moment."
Justin definitely felt good about that moment, and hopefully, he will remember it for a very, very long time. And just maybe, when he faces challenges later on in life, he'll remember this very special moment.
When asked about his favorite part about football, Justin responded, "The funnest part of football? Win and never give up…I'm so happy when we win. That's my favorite."
Related Articles:
---