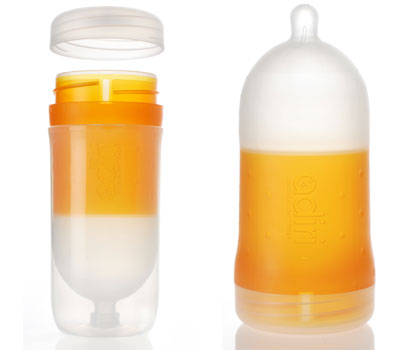 Baby bottle maker, Adiri, is the latest company to succumb to the weak economy. The company's Web site only offered this message:
"We at Adiri would like to thank our loyal customers, retailers and partners for all the support you have provided Adiri and its products over the years. Unfortunately, due to the financial pressures that many businesses face today, we made the difficult decision to cease all business operations. With gratitude, we wish you all the best of luck. Warmest regards, the Adiri team."
Adiri manufactured bottles designed with the help of doctors, moms and lactation consultants. The company started in 2000 with the debut of the Breastbottle Nurser.
Last year, the company introduced the Natural Nurser bottle, which was 100% BPA- and polycarbonate-free and had a "fill, twist and feed" system. From what I understood, the newly designed bottle was very popular. I guess not popular enough.
This is very sad. I know many moms who are very fond of the Adiri bottle. It was the first of it's kind.
SOURCE
---