While in Vegas last month, Tanya and I came across this unique looking bottle.
Styled much like a breast, the mimijumi bottle 'losely mimics the breastfeeding experience, providing the perfect companion to breastfeeding and the best possible transition to bottle feeding'.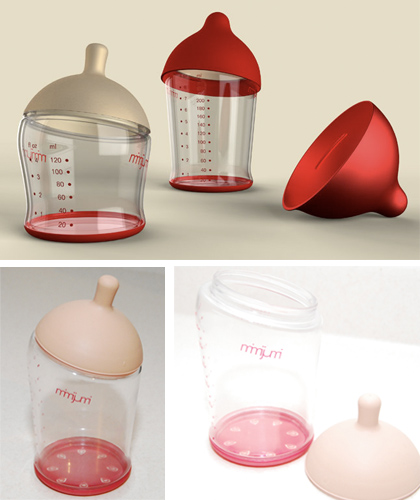 Even though my youngest son is still breastfeeding, I do occasionally pump milk for him to drink while I'm out. The problem for us, lies with the bottle – he hates them all and won't take anymore than a couple ounces from one.
So, when I saw the mimijumi, I thought it could be a good fit for us.
It's neat design features natural colors, textures and forms. From the minute we opened the box my guy was interested.
Once filled, I was happy that it didn't leak and gave it to him. The first few times he tried it he got frustrated. Widening the hole on the nipple seemed to fix this.
I like the design of this bottle. It offers features that are simple, yet effective. Mimijumi's team is composed of designers, mothers, nurses, physicians, and lactation specialists.
One down side to this bottle is the price. When it becomes available, in the next few weeks it will retail for $18.
For more information, please visit mimijumi.com
*Thank you to the company for providing us with a sample to try*
---