Two months ago when baby Kaleb was born via c-section his mother Terry-Lynn Plummer could not wait to cuddle her baby. But the mother received the shock of her life when the baby stopped moving and medics discovered that he had suffered a heart attack resulting in heart failure. Miraculously the child survived to post a rare heart transplant surgery at Stollery Children's Hospital.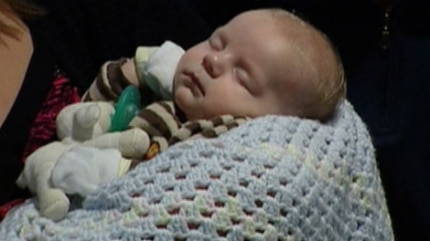 Baby Kaleb was delivered at Lloydminster Hospital through an emergency C-section. When his mother noticed he had stopped moving, the hospital staff checked and found that the newborn had suffered heart failure. He was immediately flown to Stollery's.
Later doctors found that he was suffering from a congenital myocardial infarction, a rare heart condition with only one previously documented case in Canada.
"There was no blood at all going through — similar to a heart attack in an adult," said Dr. Simon Urschel, a pediatric cardiologist.
Doctors tried their best to keep the baby alive, but even they knew that he would not survive without a heart transplant.
"We didn't really see any significant recovery in his heart function, which is why we had to transition him to a different kind of support and list him for transplantation," said Dr. Jennifer Rutledge.
Even this was a difficult situation to be in. the chances of finding a matching heart for such a tiny baby were very slim. Also doctors cautioned parents Terry-Lynn and Owen Busch that the surgery would be full of risks.
But just ten days after Kaleb's birth, his parents were informed that a heart was available.
"That last hour that we sat with him before they took him away was probably the most humbling moment of my life because you just never knew if you were going to see him again," said Terry-Lynn.
What was amazing about the surgery was that the baby's blood type and that of the donor heart did not match and still Kaleb was able to undergo surgery.
Because baby Kaleb was so young, his body's immune system had still not developed the ability to reject other blood types therefore doctors could perform the surgery known as an ABO-incompatible transplant.
The baby boy not only survived the critical surgery, but he is also now recovering well and is already out o the hospital. His parents can't thank the donor family enough.
"If it wasn't for this family out there that thought enough to sign their child up for organ donation we would not have him," said Terry-Lynn.
For Kaleb it is certainly the blessed beginning of a new life.
Related Articles:
---