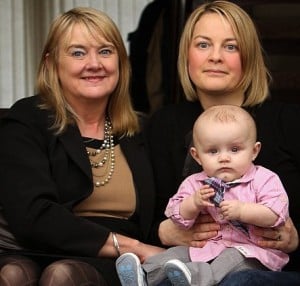 A 57-year-old woman has become the oldest surrogate mother in the U.K.  This past August Pamela Butler earned the title after she successfully carried and gave birth to her 5lb 12 oz grandson Josef, by Caesarean section.
At the age of 18, it was revealed that Pamela's daughter Nicola would not be able to become pregnant after doctors discovered that her womb had failed to develop properly. Knowing that Nichola and her husband Mathew were desperate to be parents, Pamela offered to help and the process began.
Experts at Midland Fertility Services assessed Pamela, to ensure that she was healthy enough to carry the pregnancy.  They found her to be fit-as-a-fiddle and approved her as a surrogate.
That wasn't the final hurdle, however.  The journey to parenthood had just begun.  There were three heart-breaking, failed attempts at IVF treatments before there was success.  Each time, Nichola's eggs were fertilized with Mathew's sperm and transferred but they never implanted.
"We were all devastated, especially Mum, who was just desperate to help us," recalled Nichola.  "We had all gone to her house the second time to carry out the pregnancy test and it was so emotional when we found out it hadn't worked."
Finally, on the fourth attempt, there was success.
"Mum phoned me and said she had done a test and she could definitely see a positive line.  I ran straight around to her house and I looked, and there it was, the blue line.  None of us could believe it."
Now that little Josef is here, Pamela looks back on the pregnancy fondly.
"The doctors were wonderful and very reassuring.  Luckily it was an easy pregnancy and it was the most wonderful moment when Nichola held her son for the first time."
Josef is six-months-old now and Pamela is enjoying her role as grandma.
"It didn't feel like he was my baby but it was just that I was carrying him for Nichola.  I babysit for him sometimes and he's just a wonderful little lad."
Like most jurisdictions, the laws around surrogacy are awkward in the U.K.  It was only very recently that the Pagetts were awarded a legal order recognising them as Josef's parents.  In England and Wales, the surrogate mother is the legal mother of the child until parenthood is otherwise awarded by the court.
It should be noted that, while this situation has ended happily, Surrogacy U.K. warns that the risks associated with pregnancy increase with age.  They advise any woman over the age of 35, to consider carefully before making the decision to become a surrogate mother. – Jen R, Staff Writer
---
[ad]